Spanish King Juan Carlos in hip surgery after fall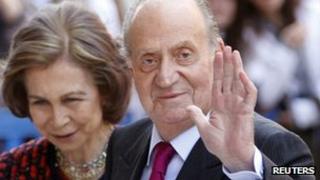 Spain's King Juan Carlos has undergone hip replacement surgery following a fall on a private trip to Botswana, the Royal Palace has said.
The king suffered a triple fracture of the hip, which the palace said was "linked to arthritis".
This is the fourth operation the 74-year-old king has undergone in the past two years.
Earlier this week, the king's 13-year-old grandson was treated in hospital after shooting himself in the foot.
'Accidental'
King Juan Carlos underwent surgery on Saturday morning at the San Jose Hospital in Madrid, under the supervision of Dr Angel Villamorthe.
The palace said: "Juan Carlos had suffered a fracture of his right hip in three pieces, linked to arthritis. A reconstruction of the parts of the fracture was carried out and a hip implant was installed."
It said the fall in Botswana was "accidental" but gave no further details.
But the Spanish daily El Pais said the king was hunting elephants at the time.
In three other operations since May 2010, the king has had a benign lung tumour removed, a torn Achilles repaired and was given an artificial right knee joint.
Last November he wore sunglasses to hide an injury sustained when he was "hit by a doorknob".
Earlier this week the king's grandson, Felipe Juan Froilan, accidentally shot himself in the foot while carrying out target practice outside a family home north of Madrid.