Five men shot dead near Macedonia capital Skopje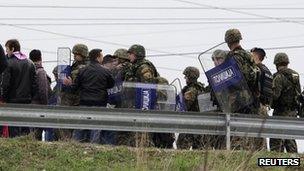 Five men have been shot dead near Macedonia's capital Skopje, police say.
The victims - four men in their late teens and twenties and a 40-year-old - were found on the shore of a lake near Skopje late on Thursday.
There were visible gunshot wounds on all the bodies, and bullet casings and trails of blood were discovered on the scene, the interior ministry said.
No suspects or motive for the killings have been identified.
It is not clear whether the deaths are linked to last month's clashes between youths from Macedonia's Slavic-speaking majority and the ethnic Albanian minority.
Riot police were deployed after hundreds of local villagers gathered to demand an immediate investigation, and threw stones at passing cars, Reuters news agency reported.