Portugal first to approve EU fiscal pact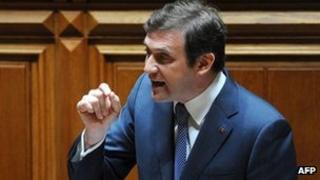 The Portuguese parliament has ratified a key pact on EU budget discipline, the first country in the EU to do so.
The fiscal compact , signed by all but two EU member states in March, takes effect if 12 countries adopt it.
Debt-laden Portugal was the third country in the 17-nation eurozone, after Greece and the Republic of Ireland, to seek an EU/IMF bailout.
MPs backed the pact by a large majority and also approved the permanent bailout fund, the European Stability Mechanism.
Under the fiscal pact, member states have to make the principle of balanced budgets legally binding and face sanctions if annual budget deficits breach agreed limits. The European Court of Justice will have the role of monitoring whether they adhere to the rules.
Portuguese Prime Minister Pedro Passos Coelho told parliament that the pact represented a "moment of confirmation of the European consensus". He was backed by the opposition Socialists.
The UK and Czech Republic have refused to sign the pact. British Prime Minister David Cameron argued that the City of London could be adversely affected by proposed financial service regulations.
The Czech leader Petr Necas decided not to sign because of coalition disagreements, but did not rule out joining at a later date.