Four deny Denmark Jyllands Posten attack plot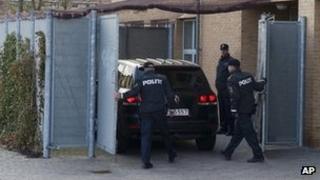 Four men have gone on trial accused of planning an armed attack on a Danish newspaper that printed cartoons of the Prophet Muhammad.
Prosecutors said the men had plotted to open fire on the offices of Jyllands-Posten on the day that Crown Prince Frederik was due to visit the building.
The four had intended to cause heavy loss of life, they said, but the prince was not thought to be the target.
The men have denied terrorism and illegal possession of weapons.
Jyllands-Posten published the cartoons of Islam's holiest figure in 2005, sparking riots in Muslim countries.
The three Swedish citizens and a Tunisian were detained in December 2010 in Denmark and Sweden.
Munir Awad, Omar Abdallah Aboelazm and Munir Ben Mohamed Dhahri, a Tunisian citizen, were picked up by police on 29 December 2010 at a flat near the Danish capital, Copenhagen.
Sabhi Ben Mohamed Zalouti was arrested a day later after crossing back into Sweden, then extradited back to Denmark.
They could face between 14 and 16 years in prison if convicted at the trial in the Glostrup district court, just outside the Danish capital, Copenhagen.
The newspaper shares a central-Copenhagen office with the national daily, Politiken, and prosecutors said that a sporting award ceremony due to take place in the building on 29 December was the likely target of the bomb plot.
Crown Prince Frederik had been due to award a prize to badminton player Victor Axelsen.
Prosecutor Gyrithe Ulrich told Danish TV that "it is our perception that an unknown number of people were to be killed by shooting". He said that while the award ceremony was believed to have been the focus of the attack, there was "no evidence" that the prince was an intended target.
Embassies attacked
A machine-gun with a silencer, a revolver and 108 bullets and reams of duct tape were among items found in the men's possession when they were arrested.
Prosecutors say they intended to cause havoc and kill as many people as possible in an attack similar to that in Mumbai, India in 2008.
Swedish and Danish intelligence officials say they tracked the men for a number of months.
Denmark remains a target for Islamist militants more than six years after the cartoons appeared.
Many Muslims were offended by the drawings, which violated an Islamic tenet banning the portrayal of his image.
At the time, Danish flags were burned and Danish embassies were attacked.
The newspaper eventually apologised but that did not stop attacks in connection with the cartoons:
Somali refugee Mohamed Geele was sentenced last year to nine years in prison, to be followed by deportation, for trying to kill cartoonist Kurt Westergaard with an axe on 1 January 2010.
Lors Dukayev, a Chechen asylum seeker who had come to Denmark from Belgium, was jailed last year for 12 years for terrorism after injuring himself in Copenhagen with a letter bomb destined for Jyllands-Posten in September 2010.
The trial is expected to last two months, with a verdict due in mid-June, the Associated Press reports.
But Prof Peter Seeberg, head of Middle East studies at the University of Southern Denmark, said he did not believe the trial would have the same impact in the Middle East as the cartoons did five years ago.
"Thankfully, the cartoon crisis is no longer an inflammatory issue, and when I travel to the Middle East now it is hardly ever mentioned," he told AP.
Danish graduate student Mette Petersen told the news agency: "It's a pity that this old story about the cartoons will again be highlighted.
"I personally think Denmark would like to forget this recent episode in our history."