Spanish king's teenage grandson shoots himself in foot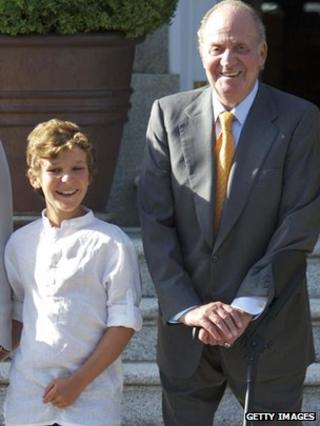 The 13-year-old grandson of Spain's King Juan Carlos is recovering after accidentally shooting himself in the foot.
Felipe Juan Froilan was doing target practice outside a family home north of Madrid when he misfired, injuring his right foot, Spanish media report.
A royal spokesman said he had suffered "a minor accident".
The boy was treated at a nearby hospital before being transferred to a clinic in the capital, the palace said.
Felipe Juan Froilan is the son of King Juan Carlos's eldest daughter Infanta Elena.
He was with his father, Jaime de Marichalar, at their home in the town of Soria on Monday afternoon when he fired a small calibre rifle that wounded his right foot, the palace said. He had been spending the last day of the Easter holiday at the house with his sister.
His mother stayed with him overnight in hospital and his grandmother Queen Sofia is expected to pay a visit on Tuesday, Spanish media say.
Under Spanish law, children under 14 are not allowed to use firearms and questions have been raised as to whether the boy's parents will be held legally responsible for the accident.
Spain's royal family has faced a lot of unwelcome attention in recent months over corruption allegations facing the husband of another of the king's daughters, Cristina.
Inaki Urdangarin, the Duke of Palma, has not been formally charged but was forced to face a judge in February over claims that he misused millions of euros of public money - allegations he denies.