Moscow Red Square opened to opposition supporters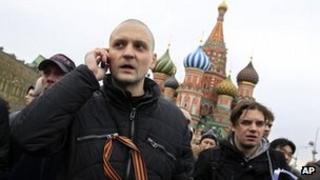 The Russian authorities have allowed opposition supporters to roam freely around Red Square in Moscow but prevented a group from pitching a tent.
Wearing their trademark white ribbons or carrying white flowers, a number of demonstrators walked around under the Kremlin walls.
Some handed out leaflets as part of their campaign against alleged ballot-rigging at recent elections.
Police only intervened to stop three people trying to set up the tent.
One of them, environmental activist Yevgenia Chirikova, was detained and then released, reportedly with a court summons.
Two persons detained with her were also expected to be freed after being charged with "petty hooliganism", Russian police told Interfax news agency.
"The tent outside the Kremlin is a symbol of resistance to an illegitimate government," Ms Chirikova said later in a message on Twitter.
'Another planet'
Protesters were not allowed to demonstrate on Red Square during the elections in December and March.
The square was sealed off last weekend when activists attempted to gather there for a silent protest, and arrests were made.
But on Sunday, the atmosphere on the square was relaxed, correspondents say. According to Reuters news agency, "hundreds" of demonstrators turned out.
"I feel like I've come to another planet, I do not understand what is happening, this is the Kremlin," activist Vitaly Zalomov told Reuters.
"Where are the police?"
Huge protest rallies were held in Moscow after the parliamentary election in December and before the presidential election last month, when Vladimir Putin was returned to office.
Currently serving as prime minister to President Dmitry Medvedev, he is due to be inaugurated as president on 7 May, after which he will formally return to the Kremlin.