Serial killer fears grow in France after Paris deaths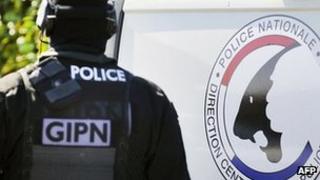 Fears are growing that a serial killer may be operating in the French capital following four similar murders there since November.
The killings were all carried out in and around Paris, reportedly with the same gun. The latest was on Thursday.
Interior Minister Claude Gueant vowed all would be done to solve the case.
The gunman fled on a motorbike each time, like in the recent killings around Toulouse, but no motive for the latest shootings has been determined.
Mr Gueant, speaking on French radio, Europe 1, on Friday, said he was "putting every effort into finding out who is behind this".
'Normal person'
All victims were shot with a 7.65mm calibre weapon, a police source told Agence France-Presse news agency.
The latest was a 47-year-old widow and mother of Algerian origin, who was shot in the foyer of her apartment block in the Grande-Borne district of Grigny, south of Paris.
"Everyone is in shock," one of her neighbours told AFP. "She didn't feel threatened. She's a normal person, simple, no history."
The killing followed three others:
27 November: Laboratory assistant, 35, in Grigny
22 February: Man, 52, neighbour of first victim, also in Grigny
19 March: Man, 81, shot in Ris-Orangis suburb
Prosecutor Marie-Suzanne Le Queau said during a press conference on Friday that all the killings took place between 16:00 and 18:00.
Ms Le Queau said the last three killings had particularly similar circumstances, with all the victims shot in the head. Cartridges were recovered from Thursday's shooting.
The first killing was different but involved the same weapon, she said.
Ms Le Queau said police were trying to determine whether there were links between the victims and whether more than one perpetrator was involved.
A man turned himself in for the first killing, but then retracted his confession and the other killings took place while he was in custody.
Many in France are still coming to terms with the killings by self-styled al-Qaeda gunman Mohamed Merah in and around Toulouse.
He was shot dead by police last month in the city, following attacks in which he murdered seven people, including three children.
The killings have prompted two high-profile police operations targeting Islamist suspects across the nation.