Antarctic storm scare for Russian expedition yacht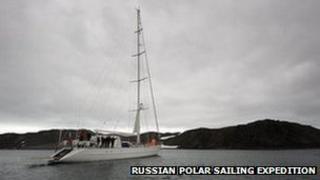 A Russian polar expedition yacht with a crew of seven is battling its way through ice in Antarctica after getting caught in a gale.
Contact with the Scorpius was lost for four days after water damaged its satellite antennae as it travelled between two polar research stations.
But the crew - four Russians and three Ukrainians - reported overnight that they were well, though short of fuel.
The yacht set out in September to visit the two poles.
Anna Subbotina, spokeswoman for the expedition, told AFP news agency: "They contacted us with an email last night.
"The ice conditions were very severe, and currently they are going toward the mainland because they are running out of fuel and other supplies."
They were not asking for help, she said.
Speaking to Ukrainian TV channel 1+1 by telephone, the yacht's captain, Sergei Nizovtsev, said the yacht was off the island of Deception, in the South Shetland Islands, as of Friday.
Underwater stones
Earlier, Ms Subbotina told the BBC News website she was concerned about the boat because it had been out of contact so long.
She had an agreement with Captain Nizovtsev to make contact every two or three days since the boat set sail on 18 September, she said.
The yacht had left Ukraine's Vernadsky polar station in the Argentine Islands and was on its way to Russia's Bellingshausen station in the South Shetland Islands when a gale forced the crew to drop anchor.
Reporting winds of about 40 knots (74km/h; 46mph), the crew wrote in the yacht's log on Monday: "In wind like this, it is very dangerous to enter the strait which is full of underwater stones."
In the course of the trip, officially known as the Russian Polar Sailing Expedition, the crew have already produced spectacular photo journals of wildlife and ice formations in Antarctica,displayed on their website.
Their mission statement speaks of bringing "glory to Russia" in the course of exploring both the poles.
The Scorpius is a 29.45-metre (96-ft) sailing yacht with a steel hull, built by the Dutch firm Jongert in 1991.