FA Porsche, designer of iconic 911 sports car, dies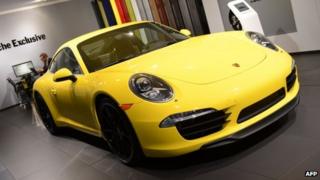 The designer of the iconic Porsche 911 sports car, Ferdinand Alexander Porsche, has died at the age of 76.
FA Porsche first designed the model in the early 1960s.
The 911 first appeared in 1963, and the elegance and simplicity of its shape quickly made it a classic. It is now in its seventh version, and was recently voted one of the best cars of the twentieth century.
His grandfather, Ferdinand Porsche, designed the Volkswagen Beetle.
FA Porsche was in charge of the family firm's design department when he conceived the 911 as a replacement for its first model, the 356.
Classic
While it has undergone many technological changes since its inception, the 911 is recognisably still the same car today.
FA Porsche became the chairman of Porsche AG in 1990, and served in that role until 1993, helping to secure the company's future after sales fell in the late 1980s.
The company says FA Porsche died on Thursday in the Austrian city of Salzburg, but it has not revealed how he died.
He will be buried in Austria, and a memorial service will be held in Stuttgart, the city of his birth, and where the company is based.