Ukraine jails ex-minister and Tymoshenko ally Filipchuk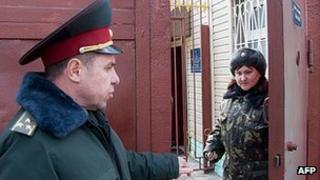 A court in Ukraine has jailed former Environment Minister Heorhiy Filipchuk for abuse of office - an ally of ex-PM Yulia Tymoshenko, who is also in jail.
Filipchuk was jailed in Kiev for three years over a contract with a law firm, Astapov Lawyers, concerning a Black Sea shelf exploration deal.
His lawyer called the ruling "absurd" and said he would appeal against it.
Tymoshenko, in prison near Kharkiv, complains of acute back pain. A Polish Euro MP visited her on Thursday.
The meeting at Kachanivska penal colony, in eastern Ukraine, lasted an hour, conservative MEP Pawel Kowal said.
"She told me about problems with her spine that require treatment," he said.
"She told me that she must lie down practically all the time and can only sustain a sitting position for a few minutes," he added.
The European Conservatives and Reformists (ECR) group says it is the first time that an MEP has visited the imprisoned Ukrainian opposition leader, who was a key figure in the pro-Western 2004 Orange Revolution.
On Friday Mr Kowal visited the imprisoned former Interior Minister Yuri Lutsenko, another ally of Tymoshenko, Interfax-Ukraine news agency reports. He was jailed in February for four years, for abuse of office and embezzlement.
On 17 April the European Court of Human Rights in Strasbourg will hear a complaint from Lutsenko, in which he alleges the Ukrainian authorities violated his rights.
The Filipchuk case dates back to December 2010. He had been under house arrest for a year before being jailed on Thursday.
Tymoshenko, 50, is a fierce critic of President Viktor Yanukovych. She was sentenced to seven years in jail last October for abuse of power.
The case has strained relations between Ukraine and the EU.
Her conviction relates to a 10-year gas deal with Russia she signed in 2009, when she was still prime minister.
Prosecutors said Tymoshenko did not have cabinet approval to sign, and the deal was ruinous for the Ukrainian economy.
She denies wrongdoing but lost an appeal against the verdict in December. She calls it political revenge by President Yanukovych.