Tributes in Greece to pensioner who killed himself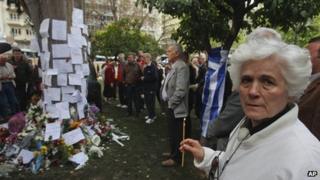 Greeks have been holding a vigil at the spot in the capital, Athens, where a pensioner shot himself, apparently in despair over austerity cuts.
People stood silently around the tree on Syntagma Square, outside parliament, where Dimitris Christoulas, 77, killed himself on Wednesday morning.
In a note he left at the scene, he said the cuts had wiped out the pension he had earned.
Clashes between protesters and riot police followed his death.
Syntagma has been the scene of massive protests and angry clashes over the austerity measures Greece has been forced to implement in return for huge international loans.
Cases of suicide and depression are reported to have increased in Greece, which formerly had the lowest suicide rate in Europe.
'Ruined families'
Hundreds of people came to the square on Thursday to pay tribute to the pensioner.
Some laid flowers or attached messages to the tree beside which Mr Christoulas had killed himself.
"It's horrible," Anastassia Karanika, 60, told Reuters news agency.
"We shouldn't have reached this point. The politicians in parliament who brought us here should be punished for this."
People took to social media, in Greece but also in other euro states where cuts are biting such as Spain, where the pensioner's name has been trending on Twitter in the capital, Madrid.
One of the most shared messages was from Madrid blogger Antonio Maestre, who wrote: "Let the letter of Dimitris Christoulas be writ in flame as the despair of your fathers or grandfathers."
Mr Christoulas was a retired chemist, with a wife and a daughter.
He is said by the Greek daily Ekatherimini to have been suffering from a serious illness and struggling to pay for medicines.
George Barkuris, a counsellor at the Greek helpline Klimata, told BBC World Service that families were being "destroyed by the financial crisis".
"There is no connection between the state and the people of Greece," he said.
"Greek people today say that this was not a suicide, it was a murder. All the people are talking about murder."
The main political parties in Greece, which faces elections in five or six weeks' time, have expressed regret over the pensioner's death.