OECD links fall in development aid to financial crisis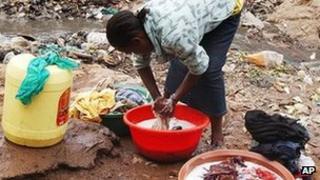 The amount of aid given to developing countries by richer nations has fallen for the first time since 1997 because of the global recession, a report says.
Major donors gave $133.5bn (£83bn; 100.2 euros) in 2011, down 2.7% on 2010, the Organisation for Economic Co-operation and Development said.
The OECD said in its annual report that the drop was the result of tight budgets in its member countries.
The aid group Oxfam condemned the fall, saying it would "cost lives".
"Hundreds of thousands of poor people will go without life-saving medicines and many more children will miss out on school because of the first cuts in global aid since 1997," Oxfam said in a statement.
The figure excludes variations in exceptional debt relief, according to the OECD.
Most of the countries classed by the OECD asleast developedare in sub-Saharan Africa but the list also includes states ranging from Bangladesh to Haiti.
'Not an excuse'
The OECD said the reduction was a cause for major concern, as it came at a time when poorer countries - themselves hit by knock-on effects of the global economic crisis - needed it most.
"Aid is only a fraction of total flows to low-income countries, but these hard economic times also mean lower investment and lower exports," OECD head Angel Gurria said.
"The crisis should not be used as an excuse to reduce development cooperation contributions."
Daniel Puglisi of Concord, a European confederation of NGOs, told the BBC News website: "The EU is the world's largest donor and its support can still help millions in need, but some European countries are cutting aid faster than their economies are shrinking."
According to the OECD, the biggest falls in aid contributions were registered in Austria, Belgium, Greece, Japan and Spain.
Sweden increased its aid by 10.5 % and Germany raised its donation by 5.9%. The UK registered a slight fall of -0.8% after exceeding its 2010 target in 2010, the OECD noted.