Norway massacre: Breivik disputes psychiatric report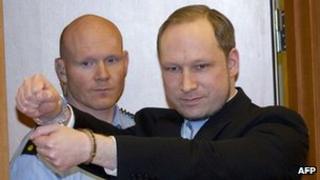 The right-wing Norwegian extremist who killed 77 people last July has blasted his psychiatric report as "lies".
In a letter to Norwegian tabloid Verdans Gang, Anders Behring Breivik said 80% of the report was wrong.
Psychiatrists Torgeir Husby and Synne Soerheim concluded he suffers from paranoid schizophrenia, but some experts have questioned the diagnosis.
Breivik's trial is expected to start on 16 April and his lawyers say he wants to be tried as sane.
In the 38-page letter, Breivik described being sent to a psychiatric ward as a "fate worse than death".
Political message
"To send a political activist to an asylum is more sadistic and more evil than killing him!" he wrote.
Breivik, who admits killing 77 people and injuring 151 others in a shooting spree and bombing last year, says he is on a "crusade" against multi-culturalism and Islam.
He published a 1,500-page manifesto online shortly before the 22 July attack last year and does not want to "damage" its political message with an insanity charge.
The psychiatric assessment diagnosing him as a paranoid schizophrenic was controversial in Norway and the court has ordered a second evaluation to be published on 10 April.
Breivik set off a bomb at a government building in Oslo before going on a shooting spree on Utoeya island, 40km (25 miles) away, at a Labour Party youth camp.