Italian 'match-fixing' footballer arrested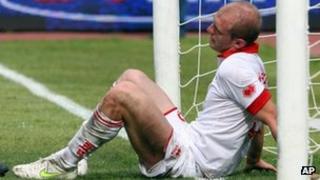 The Italian footballer Andrea Masiello has been arrested after reportedly admitting to match-fixing.
The Italian football federation said the former Bari defender confessed to scoring an own goal in a game against Lecce last season on purpose.
Eight of his former Bari team-mates are also under investigation.
The club's sporting director, Guido Angelozzi told SkyTG24 television "we thought it was a normal match. The club is a damaged party in this".
Investigators are examining nine matches in the Serie A championship, with the suspicion that a total of five were manipulated during the 2010-2011 season.
Police said two of Masiello's friends who bet on match results have also been arrested.
When Masiello scored the own goal against Lecce, Bari were already losing 1-0.
The Italian news agency ANSA is reporting he manipulated the score for 180,000 euros.
ANSA also said he wrote a note to prosecutors last week explaining: "I took advantage of an opportunity that was given to me so that I could definitely secure Bari's defeat so I could get the payment promised to me."
There has been a series of investigations into match fixing in Italy since last summer.
Former Italy player Cristiano Doni was banned for three-and-a-half years while Giuseppe Signori was banned for five years for their part in the "Calcioscommesse" match-fixing and betting scandal.