Honecker widow Margot defends communist East Germany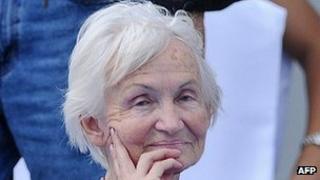 The widow of the last ruler of communist East Germany has defended the former regime's hardline policies in a rare TV interview.
Margot Honecker, 84, lives in exile in Chile. She and her late husband Erich moved there after the Berlin Wall fell in 1989.
She was education minister in East Germany (the GDR), responsible for ideological conformity.
She called ex-Soviet leader Mikhail Gorbachev a "traitor" for his reforms.
She also expressed irritation about her pension of 1,500 euros (£1,249; $2,000) a month from today's unified German state, calling it "outrageously small".
"For me the GDR was my life," she said in the German ARD television documentary.
"It's a tragedy that that country no longer exists."
She ran East German schools from 1963 to 1989 and was also responsible for the policy of forcibly removing the children of dissidents and their adoption by the ideologically faithful.
On the hardline attitude towards dissent, she says simply: "We had enemies, so we had national security".
She said East Germans who were shot trying to flee to the West during the Cold War had only themselves to blame.