France expels radical Islamists after Merah killings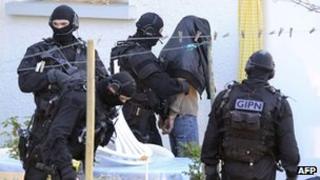 French officials say two radical Islamists have been deported and three more are to be expelled.
The move appears be a response to last month's attacks by Mohamed Merah, an Islamist gunman who killed seven people around the city of Toulouse.
The interior ministry said two men had been sent back to their home countries of Algeria and Mali, while another three face expulsion orders.
On Friday, police arrested 19 suspected Islamist militants in dawn raids.
The domestic intelligence agency (DCRI) also seized a number of weapons in the raids, which took place in Toulouse and a number of other cities.
French Interior Minister Claude Gueant said the two deported on Monday were a Malian imam who had preached anti-Semitism and advocated wearing the full face veil - which is illegal in France - and Ali Belhadad, an Algerian who has already served a prison sentence for his role in a 1994 Marrakech attack.
Two imams from Saudi Arabia and Turkey and a suspected Tunisian militant are also due to be expelled, with more deportations to follow, officials said.
'Vigilant'
"We do not accept Islamic extremism. This is not a new policy... but after what happened in Toulouse and Montauban we have to be more vigilant than ever," Mr Gueant told France's BFM TV.
President Nicolas Sarkozy, speaking at an election rally in the eastern city of Nancy, said he was sending a very clear message.
"All those who make remarks contrary to the values of the Republic will be instantly put outside the territory of the French Republic, there will no exception, there will be no leniency," he said.
Correspondents say the government and DCRI have been criticised for allowing Merah to slip through the net, so they are now intensifying efforts to deal with suspected militants.
Merah's brother, Abdelkader, has already been charged with aiding him and police are hunting a third man said to have been involved in the theft of a scooter used in all the killings.
But Merah's family are contesting the charges and have accused French police of murdering the 23-year-old. Merah was killed by police after a stand-off at his apartment in Toulouse.
Zahia Mokhtari, a lawyer for Merah's Algerian father, told France's BFM TV on Monday that she had video evidence that contradicted the French narrative.
She will be one of the lawyers representing his father in a lawsuit against France's elite Raid police unit.