Thousands at Dublin household charge protest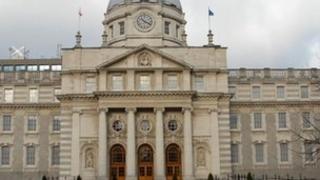 About 5,000 people have staged a protest in Dublin against the Irish government's controversial 100 euros Household Charge ahead of Saturday's midnight deadline for payment.
The measure announced last July is expected to raise 160m euros (£137m) in revenue.
The rally has been taking place near where Taoiseach Enda Kenny's Fine Gael party is holding its annual conference.
A near riot broke out when a Fine Gael delegate who resembled local government minister Phil Hogan tried to pass through the crowd,reported RTE.
He had to be rescued by gardai after he was surrounded and assaulted a number of times by angry protesters.
The flat-rate charge is the first tax on domestic property since rates in the Republic were abolished in 1997.
Anyone who pays online after the deadline passes will face a 10% surcharge along with 1% interest.