Profile: French Islamist group Forsane Alizza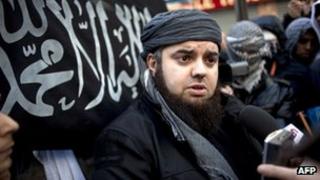 Forsane Alizza (Knights of Pride) is known in France more for its provocative statements and propaganda videos than for any acts of violence.
The group has called for Islamic Sharia law to be introduced worldwide, and for France to become an Islamic caliphate.
Since its formation in 2010, it has staged protests on issues including the ban on wearing the veil in public.
Following a government investigation, the group was banned by Interior Minister Claude Gueant in February.
He accused it of being an armed militia, in violation of the principles of the French Republic.
Forsane Alizza had posted a message saying it was looking for new members, "above all soldiers", who were already adept at "combat sports".
The group's leader Mohamed Achamlane said at the time that this did not necessarily mean it was going to put armed men in uniform.
He is among those arrested in raids on suspected Islamic militants on Friday, as a result of investigations into possible accomplices of Mohamed Merah, who shot dead seven people earlier this month.
During the raid weapons were found at his home, according to police sources speaking to AFP news agency.
Penal code burnt
Following the shootings in Toulouse and Mountauban, the French TV station BFM said it had information that Mohamed Merah was associated with Forsane Alizza.
Shortly after the group was banned by the government, Mr Achamlane said that if Islamophobia continued to intensify it might be necessary to respond with violence.
Mr Achamlane has also used the name Abu Hamza, the uncle of the prophet Mohammed.
It may also be a reference to Abu Hamza al-Masri, the radical former cleric at Finsbury Park mosque in London, who is serving a seven-year sentence in Britain for inciting racial hatred.
Forsane Alizza was only believed to have around 100 members or fewer.
Its first known action was by a dozen people who invaded a McDonald's in Limoges in June 2010, shouting anti-Semitic slogans.
Later in 2010, it also staged protests against plans by the American pastor Terry Jones to burn the Koran.
In August 2011, Mohamed Achamlane burnt the French penal code during a demonstration against the ban on wearing the veil in public.
He said the penal code did not contain anything to protect Muslims.
Although its website is no longer accessible, French newspapers say Forsane Alizza's videos can still be found on the internet.