3,000-year-old treasure found in Fermanagh bog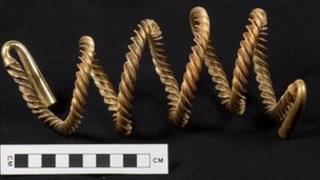 A 3,000-year-old piece of gold jewellery found in a bog in County Fermanagh has been declared an item of treasure.
At an unusual hearing before the coroner, the gold torc was described as a rare object of extreme importance.
It was found by Ronnie Johnston using a metal detector in Corrard, near Belle Isle estate in 2009.
It dates from 1300-1100 BC and would probably have been worn around the waist.
It is made of 87% gold and 11% silver and will now go to the Treasure Valuation Committee at the British Museum in London who will determine its value.
It will then be up to the Department of Culture, Arts and Leisure to secure funding to purchase the object in order to put it on public display.
Mr Johnston had bought the field where it was found and searched it with his metal detector several times a week.
He thought it was a spring from a vintage car, and he took it back to his father's house, washed it and put it in a drawer.
Mr Johnston was looking through a treasure hunters magazine in May 2011 when he saw a picture of a gold torc.
He showed it to his brother Charlie Johnston who contacted Dr Greer Ramsey from Armagh County Museum.
"I really can't believe it's a valuable and ancient object. We didn't know what it was," said Charlie Johnston.
Dr Ramsey told the treasure court that 10 torcs have been discovered in Ireland and 38 in Britain.
According to him, it is thought to date from when Ireland was the "el dorado of Western Europe".
The name "torc" comes from a Latin word meaning "to twist".
It is made from a bar of gold which is twisted to form a spiral pattern.
It is thought the torc is an item of jewellery sometimes worn as a bracelet or necklace, but the size of the Corrard torc means it was more likely to have been worn around the waist.
Prior to burial it was coiled like a spring, perhaps to make it easier to bury or to prevent it from being worn by anyone else.
The treasure court, heard by a coroner, must be satisfied that the object is at least 300 years old and contains more than 10% precious metal for it to be declared treasure.
The coroner, John Leckey, described the Corrard torc as an extremely beautiful object and stressed the importance of reporting such finds to the authorities.
"I would regard it as an outcry if the object didn't end up in Northern Ireland on display in a museum. This is part of the culture of Ireland," he said.
He added how Culture Minister Caral Ni Chuilin should be alerted to the immense significance of the find, describing it as "an important day for Northern Ireland".