Italy police find Al Pacino Scarface bust in mafia raid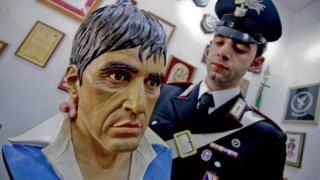 Italian police discovered a bust of actor Al Pacino as the drugs boss "Scarface" when they raided the home of a suspected mafia drugs boss.
Al Pacino played the role of Cuban drug kingpin Tony Montana in the 1983 film.
Police said the model was found in the home of 34-year-old Carlo Padovani during a raid in Boscoreale, near Naples.
Mr Padovani is believed to be linked to three clans from the Camorra mafia which operates in the area.
Police said he was in charge of managing the drugs trade which took place on a square in Boscoreale.
Although Mr Padovani was initially arrested in July last year, police said he was able to carry on organising the trade from his home where he was under house arrest. He obtained a false medical certificate from an official who has also now been arrested.
Mr Padovani was among 33 people detained in what police said was a drugs trade on an almost industrial scale, generating 17-18,000 euros (£14,181- £15,040) per day, and as much as 25,000 euros (£20,800) at weekends, according to Italy's TG1.com.
Police said children as young as six years of age were used as lookouts for drug pushers operating in the square.