French gunman Mohamed Merah buried in cemetery near Toulouse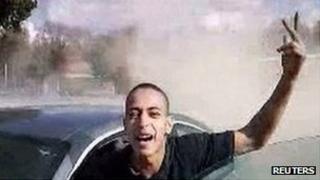 Gunman Mohamed Merah, who killed seven people in south-western France in three shootings earlier this month, has been buried outside the city of Toulouse.
Merah, 23, was shot dead after a 32-hour siege at his home last week.
He was buried at the Cornebarrieu cemetery, after Toulouse's mayor sought a delay, saying it was "inappropriate" for him to be buried there.
Algeria, where his family is originally from, earlier refused to accept his body for burial.
"It's all over. We aren't talking about it any more. He is in his grave," Abdallah Zekri of the Muslim Council of France, who has been helping organise the burial, told the Associated Press news agency.
A police helicopter hovered overhead and around 100 policemen were present at the funeral, according to French newspaper Le Figaro.
Merah's body was accompanied by around 15 men, although it was not clear who they were.
"We came because he has the right to be buried and accompanied by his friends like anyone else, even if some people say he is a criminal," one of the mourners told the paper.
Earlier, Toulouse Mayor Pierre Cohen had tried to stop Merah being buried in the city.
"Following Algeria's last-minute refusal to accept Mohamed Merah's body, Mayor Pierre Cohen feels that his burial within the city of Toulouse is inappropriate," his office said earlier on Thursday.
"Therefore he has asked the regional prefect to delay the burial by 24 hours and is raising the matter with the government."
However, French President Nicolas Sarkozy told France's BMFTV news channel that Merah's burial in France should go ahead.
"He was French. Let him be buried and let's not have any arguments about it," Mr Sarkozy said.
Algerian officials had cited security concerns as the reason for the refusal to bury him there, according to Mr Zekri.
Scooter
Police have found an abandoned car near Toulouse with possible links to Merah and the attacks, French media say.
The car was discovered by residents late on Wednesday in St Papoul, a village near the town of Castelnaudary, the Midilibre regional daily reported.
The grey Renault Clio contained parts of a Yamaha Tmax scooter identified as the same type thought to have been used by Merah to travel to the scenes of the murders, reports say.
The car's owner has been identified as a man living in the same Toulouse block of flats as Merah, France 3 TV quoted a source close to the investigation as saying.
French newspapers say the discovery supports theories that Merah may have had an accomplice.
The killer's elder brother, Abdelkader Merah, is said to have told investigators that a third man was present with the pair when the scooter used in the attacks was stolen, Le Parisien newspaper reports.
Abdelkader Merah is being held on preliminary charges of complicity with his brother.
Merah died in a police assault on his flat in Toulouse on 22 March after a 32-hour siege. He had killed three soldiers in two separate attacks before shooting dead three children and a teacher at a Jewish school.
Merah is said to have told police he wanted to avenge Palestinian children and to attack the French army because of its foreign interventions.
His father, Mohamed Benalal Merah, has said he has hired an Algerian lawyer to sue French special police over his son's death.