Rape case against Saudi prince dropped in Spain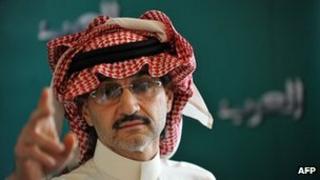 A court in Spain has dropped a rape case against a Saudi prince over "contradictions and vagueness" in evidence from the alleged victim.
Prince Alwaleed bin Talal, one of the world's richest men, was accused of raping the woman, a model, aboard a yacht moored off Ibiza in August 2008.
He denied the charge, saying he was not even in Spain at the time.
A judge ordered the case to be closed for lack of evidence in 2010 but it was re-opened on appeal from the plaintiff.
In its ruling released on Thursday, the provincial court on Palma de Majorca, capital of the Balearic Islands, ordered a stay of proceedings.
"In light of recent statements by the complainant, we cannot firmly establish with evidence what happened overnight August 11-12, 2008, on the yacht," it added.
'Spiked drink'
The prince, 57, is pursuing criminal actions against the accuser, her mother and their lawyer, and professional sanctions against the lawyer for unethical behaviour.
He said in a statement that he had not even heard of the case against him until it was resurrected last September.
"No-one's character should be subject to such dishonest attacks," the statement added.
The woman, who was 20 at the time of the alleged attack, believes her drink was spiked with a drug in a nightclub on Ibiza after she met the prince.
She later allegedly woke up in a bedroom aboard a luxury yacht owned by the Saudi royal family to find herself being raped.
Forensic tests turned up traces of semen, and a sleep-inducing chemical, nordazepam, was found in her urine.
The woman's defence had asked for the semen to be examined against the prince's DNA.