Ireland referendum on EU pact to be held on 31 May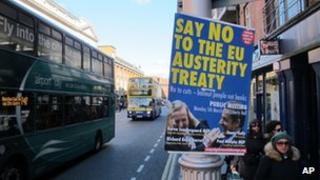 The Republic of Ireland will hold a referendum on the European fiscal treaty on 31 May, Deputy Prime Minister Eamon Gilmore has said.
Mr Gilmore told the Irish parliament he was confident that a majority of the public would back the government in supporting the treaty.
The pact introduces tough new deficit rules and spending restrictions for governments.
Only the Czech Republic and the United Kingdom refused to sign up to the pact.
The Irish Republic is expected to be the only European state to hold a referendum on ratification.
In January it received legal advice that the country's constitution made it necessary to ask the public to back the pact.
"This is about ensuring long-term stability, recovery, growth and jobs," said Mr Gilmore as he called for a "yes" vote.
Ireland has a mixed record on European votes, having required a second vote before ratifying European treaties in both 2001 and 2008.
But the opposition Fianna Fail party has indicated it will support the government and campaign for a yes vote in May.
The new pact will come into effect once 12 countries have ratified it.
Bailout funds
Rejecting the pact would only mean that Ireland would be excluded from the terms of the agreement.
It would also mean that Dublin was prevented from accessing loans from the European Stability Mechanism (ESM), the successor to the eurozone's current rescue fund.
Ireland is already using rescue funds as part of an EU/IMF bailout that runs until the end of 2013.
In November 2010, the Irish government was awarded 85bn euros ($112bn; £71bn) of emergency loans from the International Monetary Fund and European Union, as it struggled to cope with big debts and the high cost of its borrowing.
Recent opinion polls in Ireland suggest most people would vote to ratify the agreement.
Prime Minister Enda Kenny was not in parliament because he is on a trade mission to China.