Not a crime to be a libertine, says Strauss-Kahn lawyer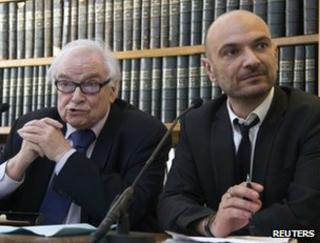 A lawyer for Dominique Strauss-Kahn has predicted a French pimping case against him will collapse and said a libertine lifestyle was not a crime.
Henri Leclerc told reporters that evidence against Mr Strauss-Kahn was "hollow" after the former IMF chief was formally placed under investigation.
Mr Strauss-Kahn admits attending sex parties but denies he knew that prostitutes were there.
Allies in the French Socialist Party have distanced themselves from him.
Mr Strauss-Kahn, 62, was released on bail of 100,000 euros (£84,000; $135,000) after questioning in the northern city of Lille.
He faces up to 20 years in prison if tried and convicted.
Last May, he resigned from the IMF after being accused of attempting to rape hotel maid Nafissatou Diallo in New York. Those charges were later dropped.
Ms Diallo, 32, is now bringing a civil case against him, which is due to start in New York on Wednesday. He has always denied any wrongdoing.
'Crime of lust'
Mr Strauss-Kahn faces allegations of involvement in a vice ring that hired prostitutes for hotel orgies, mainly in Lille, but also in Paris and Washington.
The case has become known in France as the "Carlton affair", named after a Lille hotel where several orgies are said to have been held.
Magistrates are examining allegations that business associates of Mr Strauss-Kahn were involved in the prostitution ring, misusing corporate funds.
Eight people have already been placed under formal investigation, including a senior police officer.
"There's no serious evidence to suggest that Dominique Strauss-Kahn knew that these women were paid," Mr Leclerc was quoted as saying by AFP news agency.
"Certainly Dominique Strauss-Kahn has attended a certain number of parties with women, libertine parties with female friends and women who were friends of his friends.
"You can say what you like about that on the moral level, but that doesn't change the fact that it's not against the criminal law. They are trying to ban a sort of crime of lust. He's being attacked over his libertine behaviour."
Before his downfall last year, Mr Strauss-Kahn was favourite to stand as the French Socialist Party's candidate in next month's presidential election.
'Private matter'
AFP notes that, with weeks to go to the contest, former party allies are distancing themselves from the former IMF chief.
The Socialist candidate, Francois Hollande, said the new case against Mr Strauss-Kahn was a "private matter".
"It's painful but not something that I have to make a political judgement about," he told radio station France Bleu.
Mr Hollande's campaign director, Pierre Moscovici, said that while people felt "sadness" for Dominique Strauss-Kahn, it was for "the justice system to go to work".
"Everyone can see this has nothing to do with the Socialist Party," he added.
Two of three opinion polls published in recent days suggest the incumbent President, Nicolas Sarkozy, would have a lead of one percentage point over Mr Hollande in the first round of the election.
However, he would still trail Mr Hollande by up to eight percentage points in the second.
National Front leader Marine Le Pen would come third in the first round, followed by radical left-winger Jean-Luc Melenchon, then centrist Francois Bayrou.