France shootings: What the 'Merah video' contains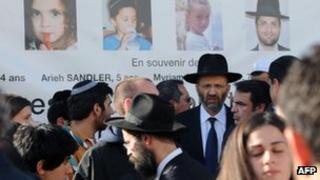 Al-Jazeera, the Qatar-based satellite TV channel, has received a video apparently showing the attacks carried out by Islamist gunman Mohamed Merah in south-west France.
It decided not to broadcast the contents, or circulate them to other media, after appeals from French President Nicolas Sarkozy and others.
Victims' families believe its broadcast would give publicity to Merah, who reportedly told police before he was killed in a siege that he identified with al-Qaeda.
Over nine days, he shot dead four defenceless adults and three small children, recording his attacks with a camera strapped to his chest.
Details of the footage - which has not been seen by the BBC News website - were given both by al-Jazeera and French judicial sources.
'Horrible things'
Entitled "Al-Qaeda attacks France", the video posted to al-Jazeera on a USB stick lasts about 25 minutes, a judicial source told French news website 20 Minutes.
"It's very, very well produced," the source said.
"This is not some muddy, grainy film. The editing is professional, with songs in between the events."
Zied Tarrouche, al-Jazeera's bureau chief in Paris, said he had watched the video and it showed all of the killings.
"You see all of the attacks carried out in Toulouse and Montauban, that's to say the murder of the first soldier, then the three soldiers and finally the attack on the school," he told French channel BFM TV.
"You hear the voice of the person who carried out the killings," he added.
"You also hear the victims' cries.
"My feelings are those of any human being who sees horrible things."
'French not Arabic'
Mr Tarrouche said the video also contained a mixture of religious songs, readings and Koranic verses.
Speaking to Le Figaro newspaper, he said the USB stick had come in the post on Monday along with a letter dated Wednesday 21 March.
The author of the letter, according to Zied Tarrouche, claimed the attacks in the name of al-Qaeda, writing in "passable French with lots of spelling mistakes".
"The odd thing is that it was written in French when usually al-Qaeda claims are made in Arabic," he added.
In a later statement, al-Jazeera announced: "In accordance with al-Jazeera's code of ethics, given the video does not add any information that is not already in the public domain, its news channels will not be broadcasting any of its contents."
All media requests for copies of the video were being declined, the broadcaster said.