Toulouse killings: Police obtain Merah video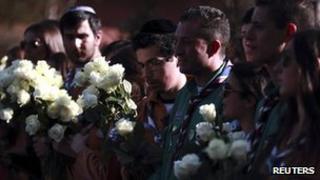 Video footage filmed by Mohamed Merah, who killed seven people in south-west France, has been received by al-Jazeera in Paris, police sources say.
A computer memory stick containing a montage of clips along with readings from the Koran was sent to the TV channel before being passed to police.
Merah, 23, was killed in a shoot-out with police. His father has said he intends to sue the French government.
Foreign Minister Alain Juppe has said the father should "shut his mouth".
Mr Juppe was responding to a remarks made by Mohamed Merah Benalel, who reportedly left France for Algeria, his country of origin, a few years ago.
Merah's father said he would make a formal complaint against the French authorities for shooting his son, rather than arresting him.
"They could have knocked him out with gas and taken him in," he told the AFP news agency. "They preferred to kill him. I will hire the biggest named lawyers and work for the rest of my life to pay their costs."
He also said he wanted his son to be buried in Algeria.
There's been an angry reaction to his comments in France.
Alain Juppe, speaking in a live radio interview, said "If I were the father of such a monster, I would shut my mouth in shame". A senior adviser to President Sarkozy, Henri Guaino, called Mr Merah's comments "indecent".
Brother charged
The package sent to al-Jazeera was reportedly dated 21 March, the day police surrounded Merah's apartment, according to Le Parisien daily newspaper.
"Investigators are trying to find out whether the letter was posted Tuesday night by Mohamed Merah himself or by an accomplice Wednesday morning," Reuters quotes the newspaper as saying.
Mohamed Merah, a French citizen of Algeria descent, died in a shoot-out with police following a 32-hour siege of his apartment in Toulouse.
During the stand-off, he admitted shooting dead three soldiers in two separate incidents, and, last Monday, killing three children and a teacher at a Jewish school in the city.
He also boasted of filming the incidents.
Merah's older brother, Abdelkader Merah, 29, has been charged with complicity in the murders as well as being suspected of involvement in theft and terrorism.
Abdelkader Merah denies the accusations but says he was there when his brother stole a scooter used in the attacks. He also denies being proud of his brother.
Mohamed Merah had described himself as an al-Qaeda member, and told police he had bought weapons for 20,000 euros (£16,700; $24,400) using money taken through break-ins and hold-ups.
On Monday, President Nicolas Sarkozy - who faces elections next month - said he would ban militant Islamist preachers from entering the country.
"Are there other Merahs? All the security, intelligence and police services in democratic countries are on the lookout," Mr Sarkozy told France Info radio.