Dominique Strauss-Kahn's cross-Atlantic legal battle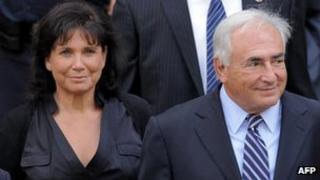 This time last year Dominique Strauss-Kahn was the overwhelming favourite to win the Socialist ticket for the forthcoming presidential election. Now he faces a new legal battle - and on both sides of the Atlantic.
In March 2011 he was giving all the signals he wanted to run for the presidency, and the polls said he should.
His reputation as head of the International Monetary Fund (IMF) was such that, in these troubled economic times, it is likely that he would have posed a formidable test for President Nicolas Sarkozy.
Two months later his world was turned upside down.
Arrested in New York on charges of attempted rape, Mr Strauss-Kahn was imprisoned in the notorious Rikers Island prison, forced to resign from his high-profile position at the IMF and suddenly facing all manner of allegations.
Would the other allegations have emerged had he not been arrested? Probably not. And it does makes you wonder - in a country where the press was always reticent to lift the lid - whether he might in fact have become president.
But that is pointless conjecture.
Diplomatic immunity
In the northern French city of Lille, investigating judges have placed the 62-year-old under formal investigation for his connection to a pimping gang. He's been freed on bail set at 100,000 euros.
And on Wednesday his lawyers will be in court in New York for the opening hearing of the civil case brought by Nafissatou Diallo, the hotel maid who alleged he sexually assaulted her. The criminal charges were dropped last year after prosecutors came to doubt the reliability of her testimony.
In this case the judge, Douglas McKeon, will be asked to rule on a motion by Mr Strauss-Kahn's lawyers that at the time of the alleged attack he had diplomatic immunity. Judge McKeon has said he will provide a written judgment on whether the case can go forward within a few weeks. If he rejects the motion, then Ms Diallo's case for damages will go forward.
Promiscuous lifestyle
So far, Mr Strauss-Kahn has twice avoided the threat of criminal trial.
First there was the New York case and then the case brought here in France by 32-year-old French author Tristane Banon. French investigating magistrates concluded that, while there was prima facie evidence of a sexual assault dating back to 2002, the alleged incident had taken place too long ago for a prosecution to take place.
Of course the common thread through these cases is that Mr Strauss-Kahn has never denied his promiscuous lifestyle.
He admits to having a "sexual encounter" with Ms Diallo during the nine minutes she spent in his suite; he told French police he had tried to kiss Ms Banon - though he strenuously denies he used violence in either case.
And in Lille he does not deny he attended swinger parties at the Carlton Hotel - he denies he paid the prostitutes who were there.
And this is the key question for the French investigators. Did he know or not?
His lawyer, Henri Leclerc, said: "He could easily not have known, because, as you can imagine at these kinds of parties you're not always dressed, and I challenge you to distinguish a naked prostitute from any other naked woman."
Police have discovered that the sex workers were brought from brothels just over the Belgian border; some were flown to Washington to entertain the former IMF chief while he was still in the job.
Using prostitutes is not illegal in France, but prosecutors believe the parties were arranged by an organised pimping ring and paid for by other guests misusing company funds.
A number of businessmen and policemen have already been accused of taking part in the ring.
One line of Mr Strauss-Kahn's defence is that the women he met had been introduced to him first by senior police officers: it was safe to assume, his lawyer argued, that policemen do not associate with prostitutes.