Turkey 'Ergenekon plot': Ex-army chief Basbug on trial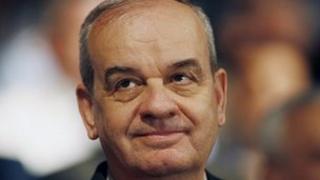 The former head of the Turkish armed forces has gone on trial on terrorism charges over an alleged plot to overthrow the government.
Gen Ilker Basbug, who retired in 2010, is the highest-ranking officer to face charges over links to the Ergenekon network, a hard-line nationalist group.
Prosecutors say the group tried to bring down Prime Minister Recep Tayyip Erdogan's government in 2003.
Gen Basbug rejects the allegations. Some 400 suspects are already on trial.
Some military officers already charged in the case have said they acted in a chain of command.
'Inconsistencies'
The court is sitting in a specially constructed courtroom at the high security Silivri prison complex, where the general is being held.
During Monday's session, the court rejected Gen Basbug's request to have his case considered by the Supreme Court.
According to Turkey's Zaman newspaper, the court said that the charges facing Gen Basbug were not related to his profession but were "terrorism charges".
When asked his address, Gen Basbug replied: "Since January 6, I've been staying at Silivri prison, cell block number five."
He is accused of setting up websites allegedly used by the military to spread "black propaganda" against the government until 2008 as well "establishing or administering a terrorist organisation" and "seeking to unseat the government... by force", the newspaper reports.
Gen Basbug's lawyer said this month that the indictment was filled with inconsistencies and lacked credibility.
Many of those attending the trial appeared to know Gen Basbug personally and he reportedly waved to several co-defendants and raised a clenched fist as a sign of solidarity with one old colleague also on trial.
During a break in proceedings, Gen Basbug chatted with family and friends. One former colleague told him: "The Turkish army has never been defeated," and he replied: "Of course! All this will pass".
Turkey's military, the second largest in the Nato alliance after the US, has long seen itself as the guarantor of the country's secular constitution. It staged three coups between 1960 and 1980.
But it has a history of tension with Mr Erdogan's governing Justice and Development (AKP) party, with the two sides engaged in a war of words for the past two-and-a-half years over the alleged plots.
Critics have complained that the Ergenekon investigation has focused on opponents of the AKP, which has Islamist roots. The government denies any such motives.
The AKP is considered a successor to the Welfare Party, an Islamist party which led a 1996-97 government forced to resign by an army-led campaign.