Syria unrest: Divided opposition seeks 'national pact'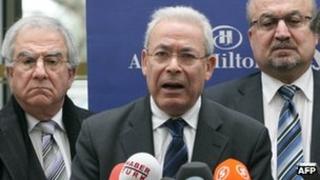 Syria's divided opposition groups are meeting in Istanbul to try to achieve a more united front in their efforts to oust President Bashar al-Assad.
The main opposition coalition, the Syrian National Council (SNC), wants a "national pact" of common objectives.
The Arab League and Turkey want the opposition to unite before next week's "Friends of Syria" summit in the city.
Meanwhile, the Arab League and UN envoy to Syria, Kofi Annan, has said the crisis cannot be allowed to "drag on".
"It is not practical to put forth timetables and timelines when you haven't got agreement from the parties," Mr Annan told reporters in Moscow.
"This cannot be allowed to drag on indefinitely and as I have told the parties on the ground, they cannot resist the transformational winds that are blowing."
Mr Annan's spokesman also said the Syrian government had responded to his six-point peace plan - which aims to end the violence, secure humanitarian aid and launch political dialogue between the government and opposition groups - and that he would "respond very shortly".
After meeting the former UN secretary general on Sunday, President Dmitry Medvedev said Russia fully supported to his mission because it might be "Syria's last chance to avoid a protracted and bloody civil war".
Mr Annan is due to travel on Tuesday to China, which along with Russia has vetoed two UN Security Council resolutions condemning the violence.
"China values and supports the mediation efforts of Mr Annan and hopes this visit will allow in-depth discussions on a political resolution of the Syrian issue," foreign ministry spokesman Hong Lei said on Monday.
'Unified vision'
The SNC said the aim of the meeting in Istanbul was to produce a "national pact for a New Syria" to group "the common objectives of the Syrian opposition to end the regime's dictatorship and realise the final objective of establishing a pluralist civil and democratic state".
The meeting was "a true opportunity to prove that all of the components of the opposition have the same objectives", the SNC added.
SNC member Mohammed al-Sarmini told the AFP news agency that all factions and members of the opposition were invited.
Katherine al-Talli, a human rights lawyer who was one of five prominent SNC members who resigned earlier this month and formed the Syrian Patriotic Front, said she would attend.
But the rival National Co-ordination Committee (NCC) said it would not.
The chairman of the Syrian National Conference for Change, Ammar al-Qurabi, said that while he welcomed the idea of a "unified vision", it would not be "under the umbrella of the Syrian National Council".
Turkey and Qatar, which holds the rotating chair of the Arab League, had invited the opposition to gather in Istanbul to discuss visions for a free and democratic Syria and agree on a set of shared principles for a peaceful transition.
Western and Arab leaders are due to attend the second "Friends of Syria" meeting on 1 April to discuss what they can do to stop the crackdown on dissent.
The BBC's Jonathan Head in Istanbul says they need a credible and coherent opposition movement they can deal with if they are to achieve more than the previous meeting in Tunis, which was widely viewed as a failure.
On Sunday, an unnamed White House official said the US and Turkey had agreed to provide "non-lethal" assistance, like communications equipment and medical supplies, directly to Syrian opposition groups.
Travel restrictions
Activists said on Monday that security forces had again been bombarding the central city of Homs, a focus of anti-government unrest.
The Syrian Observatory for Human Rights said at least five civilians had been killed by mortar rounds in the northern district of Khaldiya.
"Every day the shelling goes on. The regime is wiping out the city," Walid Faris, an activist in Homs, told the Reuters news agency.
Turkey also suspended all activities at its embassy in Damascus, a week after its foreign ministry called on all Turkish citizens to leave Syria.
Norway said it was also shutting its embassy for security reasons.
State media meanwhile reported that border guards had clashed with a group of "terrorists" trying to enter the north-western province of Idlib from Turkey, killing and wounding a number of them.
Restrictions have also been placed on men of military age - 18 to 42 - trying to leave Syria, officials told the Reuters news agency. They must now get permission from military recruitment and immigration departments before travelling.
The United Nations says more than 8,000 people have been killed since pro-democracy protests erupted in Syria a year ago.
The Syrian government has blamed the violence on "armed terrorist gangs" and says more than 2,500 civilians and 1,300 security forces personnel have died.