Greece independence day marked under tight security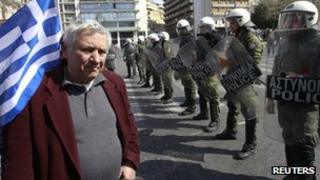 Greece has marked its independence day under a heavy security presence.
The public was banned from entering Syntagma Square, the main square in the centre of the capital, Athens, for the first time over fears anti-austerity protesters would target politicians.
Drastic austerity measures have been imposed on Greece to meet the terms of the country's huge financial bailout.
But the celebrations to mark Greece's independence from Ottoman rule passed off largely without incident.
In Athens, the annual military parade to commemorate Greece's uprising in 1821 was held under unprecedented security measures, and the public was banned from a large part of the route.
Oranges from trees that line the pavements had been picked ahead of the march, apparently to prevent them from being thrown by protesters, says the BBC's Mark Lowen in Athens.
In two cities - Heraklion and Chania on the island of Crete - police fired tear gas to disperse protesters at national day parades, Reuters news agency reports.
In the western port city of Patras, some scuffles between protesters and police were reported.
For the first time, injured war veterans stayed away in protest at the cuts.
There is a mood of immense anger here against the authorities that many feel have betrayed them, our correspondent says.
In Athens, they came in their thousands, determined to celebrate their independence day despite the heavy police presence; insults were shouted, but there was none of the violence that many expected, our correspondent says.