Bertie Ahern to resign from Fianna Fail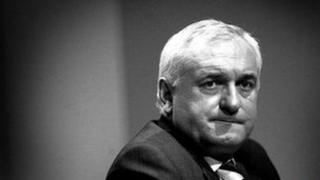 Former Irish prime minister Bertie Ahern is to resign from Fianna Fail.
In an article in Ireland's Sunday Independent newspaper, Mr Ahern said news of a motion to expel him from the party had "deeply saddened" him.
On Thursday, the party said it would seek to expel its former leader in the wake of the Mahon Tribunal.
The tribunal into corruption in the Republic's planning process found that Mr Ahern failed to truthfully account for a number of financial transactions.
However, it did not make a corruption finding against him.
After the report was published, Mr Ahern said he had never "received a corrupt payment".
But Fianna Fail said the findings regarding Mr Ahern constituted "conduct unbecoming a member of Fianna Fail".
At a meeting of party officers on Thursday, it was decided that a motion to expel Mr Ahern from the party would be tabled at a meeting of its national executive on 30 March.
In the Sunday Independent article, Mr Ahern said he did not want to be a source of political division, but his decision was not an admission of wrongdoing.
'Extremely serious'
The Irish government has asked the Irish police to look at the findings of a report into corruption in the Republic's planning process.
In its report, the Tribunal rejected Mr Ahern's evidence about the sources of money in his bank accounts.
In a statement on Thursday, the former taoiseach said he had never done "anything to demean any office" he had held.
"After spending over a decade of inquiries and countless millions of euros, the tribunal has not made - nor could it make - a finding to support the scurrilous and untrue allegation allegation that I had been given a corrupt payment by Mr Owen O'Callaghan," said Mr Ahern.
"I have told the truth to this tribunal, and I reject strongly any suggestion that I sought to mislead it."
Fianna Fail leader Micheal Martin said the findings of the tribunal were "extremely serious".
"It is a matter of profound personal and professional regret to see confirmed in this report the extent to which Bertie Ahern fell short of the standard of personal behaviour which is expected of the holders of high office," he said.
Speaking on Friday, Mr Martin said Mr Ahern's achievements in Northern Ireland were "real and enduring - but they cannot absolve Bertie Ahern from facing the implications of the Mahon report".
The tribunal, which ran for 15 years, gathered evidence from more than 600 witnesses and the final report runs to 3,270 pages.
The tribunal found that Mr Ahern failed to truthfully account for a total of 165,214.25 Irish punts passing through accounts connected with him.
It also found that in relation to the B/T account, known as the Bertie/Tim account by bank staff in the Permanent TSB, Mr Ahern and his associate, Tim Collins, failed to truthfully account for 50,000 Irish punts lodged into this account between 1992 and 1994.