France shootings: Police quiz Merah's 'proud' brother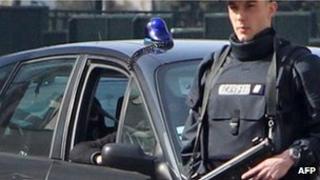 A brother of Islamist gunman Mohamed Merah has denied helping him mount his deadly attacks in Toulouse and Montauban, a French police source said.
Abdelkader Merah is being questioned at domestic intelligence agency (DCRI) headquarters in Paris, where he was brought along with his partner.
Mohamed Merah admitted killing seven people in execution-style gun attacks before his death in a police siege.
Abdelkader reportedly told police after the attacks he was "proud" of him.
The men's mother was released without charge on Friday evening.
Investigators are trying to establish if Merah, a 23-year-old French citizen of Algerian descent, acted alone.
Crucial questions include how Merah, a petty criminal, was able to amass an arsenal of weapons and rent a car without any clear source of income.
He reportedly told police during the siege he had bought weapons for 20,000 euros (£16,700; $24,400) using money taken through break-ins and hold-ups.
Merah, who described himself as an al-Qaeda member, carried out three attacks, killing three soldiers before shooting dead three children and a teacher at a Jewish school.
He recorded the shootings on a video camera strapped to his body.
Remembrance marches were being held on Saturday for two of the paratroopers killed by Merah.
Mother 'devastated'
Abdelkader Merah, 29, and his unnamed partner - said variously to be his wife or girlfriend - were detained earlier this week.
Police and prosecutors have said Abdelkader is a radical Islamist and that traces of what could be an explosive material were found in his car, the French news agency AFP reports.
He was questioned several years ago about alleged links to a network sending Toulouse-area youths to Iraq, but no action was brought against him at the time, police sources say.
After his detention in Toulouse on Wednesday, he told police he was "proud" of his brother's actions, police sources say.
Police union spokesman Christophe Crepin told reporters detectives had already gathered evidence to suggest that Abdelkader had helped his brother carry out the shootings.
There was evidence to suggest that Abdelkader Merah had "furnished means [and] worked as an accomplice", said Mr Crepin.
Under French law, if either the brother or his partner are held beyond the weekend, preliminary charges will have to be filed, the Associated Press news agency says.
A lawyer for the gunman's mother, 55-year-old Zoulika Aziri, said his client's world had been "turned upside down".
"She is devastated," Jean-Yves Gougnaud told reporters in Toulouse.
"At no time could she have imagined that her son was the one who did it."
Police criticised
French officials have strongly defended police tactics during the siege which ended with Merah being shot dead as he fired on officers.
But the operation by RAID police commandos, in which five officers were hurt, has been sharply criticised by anti-terror experts in France and Israel.
Christian Prouteau, founder of the French gendarmerie's GIGN unit in the 1980s, said the use of tear gas might have helped capture Merah alive.
"How can it be that the top police unit fails to capture a man who is alone?" Mr Prouteau told regional daily Ouest France.
"They should have pumped him with tear gas. He wouldn't have lasted five minutes."
Posthumous wedding
Some 450 people gathered for a silent march through Meyzieu, near Lyon, for paratrooper Mohamed Legouad on Saturday afternoon, reports say.
They were due to pass by the football stadium where the young man known to friends as Shams (the Arabic for "sun") because of his sunny disposition had been a keen player, as well as the district where he had lived.
He was buried on Thursday.
The unarmed paratrooper was shot dead by Merah along with Abel Chennouf near their base in Montauban on 15 March. A third paratrooper, Loic Liber, was left in a coma.
Caroline Monet, the pregnant girlfriend of Cpl Chennouf, has applied for permission to marry him posthumously.
Such ceremonies are unusual but not unheard-of in France, where presidential approval must be sought for them to take place.
Merah's first victim, Sgt Imad Ibn Ziaten, is due to be buried on Sunday in Morocco, where he had family.
A silent march was held in his memory in Sotteville, a suburb of the northern French city of Rouen, on Saturday.