Iraq terror suspects escape in Kirkuk jail break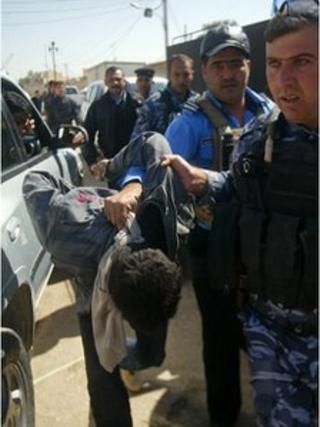 At least seventeen prisoners have escaped from a jail in the Iraqi city of Kirkuk.
They included members of al-Qaeda and fighters from a Salafist group blamed for attacks on American and Iraqi troops.
The men used a rope made of blankets to lower themselves out of a small window during the night.
A local politician said there had been "very clear negligence" on the part of the prison guards.
Iraq's security forces are now searching for the men, and extra patrols have been deployed in and around the city. At least one suspect has been detained.
Convicted murderers
Police in the city say the men escaped in the early hours of the morning by removing a ventilation grille in a bathroom.
One report suggests they drugged guards with tranquilisers hidden in dates, but a provincial councillor has claimed the guards assisted with the escape.
The men were being held in a jail in central Kirkuk which is mainly used to house detainees awaiting trial, but they included two men who have been convicted of murder.
Kirkuk was one of several Iraqi cities targeted by bombers earlier this week.
At least 38 people were killed in a wave of co-ordinated attacks across the country.