France shootings: Could Merah have been stopped?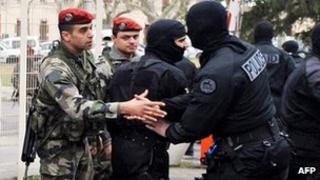 Security analysts have been asking whether French intelligence missed vital clues about Mohamed Merah that might have prevented his attacks or stopped him earlier.
Washington considered him dangerous enough to place on its no-fly list and French domestic intelligence was aware he was a risk.
However, he was able to make a trip to Pakistan unimpeded despite being effectively escorted out of Afghanistan on his first visit to the region.
Moreover, he managed to build up an arsenal of guns in Toulouse, which he used to deadly effect.
Questions over France's surveillance of Merah and similar suspects go to the very structure of the domestic intelligence service, the DCRI (Central Directorate of Interior Intelligence).
Some have asked whether the intelligence community, in its rush to adapt to the new threat of Islamist militancy in Europe after such attacks as Madrid in 2004 and London in 2005, might not have neglected traditional police surveillance methods.
"The technical means are very advanced but they do not replace human sources," veteran French journalist Alain Hamon, who specialises in policing and terrorism, told the BBC News website.
'Impossible to say'
The government has sought to portray the handling of the Merah case as a success.
"Resolving a criminal case of this importance in 10 days, I believe that's practically unprecedented in the history of our country," said Prime Minister Francois Fillon.
In lengthy interviews to French media, DCRI chief Bernard Squarcini has insisted his department did its best.
"Did we miss something?" he asked in an interview given to Le Monde.
"Were we fast enough? But it was impossible to say Sunday evening [18 March]: 'It's Merah, we have to catch him.'
"He himself hadn't planned attacking the Jewish school on Monday morning."
On that Sunday evening, Mr Squarcini pointed out, intelligence staff were still sifting IP addresses linking the killer to his first victim.
However, some would argue that Merah should have become a prime suspect immediately after the second shooting on 15 March.
Two consecutive gun attacks on soldiers, with a similar weapon and modus operandi, in the same part of France, should have suggested an Islamist attacker.
After all, as French security expert Francois Heisbourg pointed out in an interview for Liberation, suspected Islamist militants had plotted to attack soldiers in France at least twice in recent years - at Chambery in 2009 and in Lorraine in 2007.
'Profile of a jihadist'
Two factors which clouded the Islamist theory were the fact that the victims of Merah's first two attacks were all of North African or Caribbean descent, and a recent neo-Nazi scandal in one of the parachute regiments involved.
"No-one could see clearly at that moment," said the DCRI's chief.
Yet the Islamist theory was also there at an early stage, as police sources told French media, so why was Merah not hauled in right away?
The DCRI did not question Merah about his activities in Afghanistan in 2010 until nearly a year after he returned to France.
In fact, they called him to interview in October, only for Merah to tell them he was not in the country, but in Pakistan.
When Merah arrived back, he duly told the intelligence service in November he had been touring the region, and provided photos of his travels.
"Here's a guy with the profile of a jihadist and they didn't take any more interest in him," said Mr Heisbourg.
The security expert told Liberation that no more than a few dozen French people had "made the trip to Afghanistan", and the number from south-western France could be counted in single digits.
'At a loss'
Add Merah's suspicious trips abroad to his long criminal record back in France and you have a suspect who should have been kept under constant surveillance, according to Hamon.
The journalist, who has interviewed police officers from the DCRI and other departments for a forthcoming book, told the BBC the DCRI had failed in its duty "on every level".
They should, he said, have been alerted by:
Merah's record as a violent criminal and his reputation for extremist tendencies on his own housing estate
His brother's alleged links to jihadists in Libya
His visits to Afghanistan and Pakistan
Hamon does not blame individual DCRI officers but points to what he says are gaps in surveillance dating back to the department's creation in 2008, as a merger between the Central Directorate of General Intelligence (RG) and the Directorate of Territorial Surveillance (DST).
"The merger posed problems of integration for some police officers who still feel at a loss today," he said.
Informer culture
An essential part of traditional surveillance is the recruitment of informers, Hamon stressed.
He quoted Claude Bardon, the former head of the RG who was credited with breaking the Action Directe militant group in the 1980s, speaking the same day Merah was killed.
"Merah is typical of the kind of person we would have tried to recruit," Mr Bardon said.
"He had problems with the law, we would have got his slate wiped clean. He liked to go out with mates but he was unemployed, we would given him pocket money. And if that hadn't worked, we would have watched him like a hawk."
Speaking in Hamon's new book, Mr Bardon describes recruiting "dozens of young people on the most troubled estates".
"I even paid for education for some of them, including studies abroad, so that they would inform for us," he says.
While it is too early to say whether the Merah case will promote a review of domestic intelligence operations in France, politicians have already raised questions.
Francois Hollande, the Socialist opposition candidate in the approaching French presidential election, has suggested there was a "failure" of surveillance.
Though he praised police officers, President Nicolas Sarkozy's Foreign Minister, Alain Juppe, suggested there needed to be "some clarity" over why an arrest had not been made earlier.
Alain Hamon's new book, Police: l'envers du decor, is published in France by Editions Gawsewitch on 5 April.