Portugal public sector workers go on strike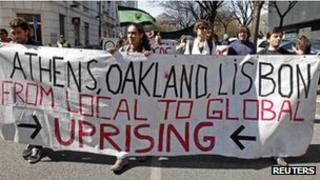 Public sector workers in Portugal have gone on strike to protest against the government's austerity measures.
Schools were closed as teachers walked out, commuters faced severe delays on trains and buses, and hospitals had to work with reduced staffing.
The strike was called by Portugal's biggest trade union, the General Confederation of Portuguese Workers.
Public sector workers are angry over job cuts and tax rises adopted in return for an international bailout.
Hundreds of union members marched from central Lisbon to the parliament building on Thursday afternoon, with separate youth movement and leftist demonstrations taking place elsewhere.
Staff at the Sao Jose hospital in Lisbon formed a picket line and strung up a banner saying "nurses join the general strike", the Associated Press reported.
It is Portugal's second strike in four months.
The government has brought in austerity measures as part of a three-year debt reduction plan, which it has to implement to receive a 78bn euro (£65bn) bailout from other eurozone countries and the International Monetary Fund.
It has privatised several industries, cut public sector wages and raised sales, income, corporate and property tax. Welfare benefits have also been curtailed.