Ireland profile - Media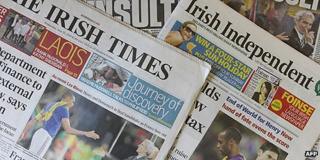 Public Raidio Teilifis Eireann (RTE) dominates the radio and TV sector. It provides a comprehensive service in English and Irish. TV3 is the main commercial TV station.
Competition comes from British public and private terrestrial TV. Satellite and cable TV are widely available.
Print and broadcast media operate freely within the confines of the law. Broadcasting - commercial and public - is regulated by the Broadcasting Authority of Ireland. The Competition Authority safeguards against unfair competition in the press sector.
Cross-media ownership is permitted within limits - press groups may own up to 25% of local radio and TV stations.
A free-to-air digital terrestrial TV platform, Saorview, has been rolled out and the analogue TV signal will be switched off in 2012.
There were 3 million internet users by June 2010, comprising around 66 per cent of the population (Internetworldstats.com).
The press
Television
RTE - public, operates RTE 1, RTE 2, RTE News Now, RTE Jnr, TRTE
TG4 - public, Irish-language
TV3 - national, commercial; also operates 3e
Radio