Costa Concordia: Five more bodies found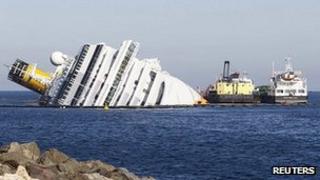 More than two months after the cruise ship Costa Concordia capsized off the Italian coast, a team searching the wreck has found five more bodies.
Italian authorities say they were found outside the ship, in a small space between the wreck and the sea bed.
Altogether 30 bodies have now been found since the vessel ran aground off the island of Giglio on 13 January.
The Costa Concordia was carrying 4,200 passengers and crew when its hull was torn open by rocks.
Civil Protection Agency chief Franco Gabrielli did not give any details on the sex or ages of the latest victims to be found.
Two people remain missing and are presumed dead.
Eight more bodies were found in late February, but forensic authorities are still working on formally identifying them.
A crew member from India and passengers from the US, Italy and Germany are reported to be among those as yet unaccounted for.
Oil clean-up
The ship's captain, Francesco Schettino, was accused by prosecutors of causing the accident by steering the Costa Concordia too close to the island's shore.
He denies charges of manslaughter, causing a shipwreck and abandoning ship before all those aboard were evacuated.
Salvage experts say they are close to completing the operation to remove all the oil from the ship's 17 tanks. Work began on 12 February and the team involved said they would stop on Friday night.
Although they said that some fuel remained in the bulkheads of the tanks, the oil involved was in "such small quantities as to pose no significant environment risk".
The next stage of the salvage operation will involve cleaning up the sea bed and the area around the ship's hull before work begins to lift the wreck. Removing the Costa Concordia is expected to take up to a year.