Toulouse school shootings traumatise French Jews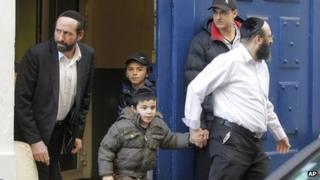 Many Jewish children in France have been afraid to go to school since the shootings that killed four people at a Jewish school in Toulouse on Monday.
Outside a Jewish school in Paris, police armed with sub-machine guns kept watch as anxious parents dropped off their children.
"It's difficult to imagine anybody running after a child and putting a bullet through their head," says Maya, a young Jewish mother.
"In Toulouse, the Jewish community was targeted, but I believe everybody should be concerned."
The attack at the Ozar Hatorah school in Toulouse, where three Jewish children and a teacher were among the dead, has stunned the nation.
Three soldiers of north African descent were also killed in separate attacks just days earlier.
That had led many to conclude that the attacker may have come from the extreme right, rather than the work of an al-Qaeda sympathiser.
Shock
In the historic heart of the Jewish community in Paris, the Marais district, people were in shock.
Nicole said she had found it hard to tell her daughter about the shootings.
"At school they had to observe a minute of silence and I think it's very difficult for children to hear about that," she said.
"Even I don't want to hear too much about the details," said her friend Anne.
"It's so horrible to attack children and attack a community, whether they're Muslim, Jewish or anything else," said another mother.
Now that a suspect who claims to be a member of al-Qaeda has been identified, it is thought that he might have targeted soldiers because of the French army's involvement in Afghanistan.
The media have reported calls by some Israeli politicians for French Jews to emigrate to Israel to escape anti-Semitism in France.
But many Jews in Paris disagree.
"I think we have to stay in France," Nicole said. "I've never been in Israel and I'm Jewish."
She says she does not feel threatened at all in France.
Guy agreed with her. "I love my country, France," he said. "I live in a suburb, a hard suburb. I know everyone there and I know we have some problems. We have extremists, like everywhere, but France is a beautiful country."
'No problem'
Many attacks against Jews in the past have been perpetrated by young Muslims angry about the conflict in the Middle East.
At lunchtime, a long queue formed outside a kosher restaurant selling falafel, a Middle Eastern speciality made with ground chick peas.
I was surprised to find a man in the queue who said he was Muslim and his name was Mehdi.
"There is no problem between people," he said. "You have to make a difference between extremists, terrorists, who can be from any community, and you should know that most Muslims are not like that."
Also in the queue was David Azoulay, who told me he agreed with those who said French Jews should emigrate to Israel.
"That's where we should be if we want to feel good about ourselves, live with people around us who are like we are, and be in safety," he said.
Two teenagers said they felt scared to wear their kippas, or Jewish skullcaps, in the metro, in case they were attacked.
They said they wanted to emigrate, but most people in the neighbourhood said they had no intention of leaving France.
Mass exodus?
Richard Prasquier, the head of the Representative Council of Jewish Institutions and one of the main leaders of the French Jewish community, says the attack will not trigger a mass exodus, although it is a "terrible moment" for the community.
He says it has reminded older people of the bombing of a Paris synagogue 31 years ago.
Four people were killed and at least another 20 wounded. Two years later an attack on a kosher restaurant killed six people and wounded 22.
There were a number of attacks against Jews in 2002, and in 2006 the Jewish community was horrified by the abduction of a young Jewish man, Ilan Halimi.
He died after being tortured for three weeks at the hands of a gang from the mainly ethnic suburbs. The gang's leader, Youssouf Fofana, is now in jail.
But Dr Prasquier told me that the Jewish and Muslim communities generally have good relations.
"The problem is not between Jews and Muslims," he said. "The problem is between radicals and moderates."
And since the Toulouse shootings on Monday, Dr Prasquier said French Jews had been reassured by the attitude of the French government and the French people.
"France is not an anti-Semitic country," he told me. "There is anti-Semitism in France, that's for sure. These murders were anti-Semitic murders. There is no question about that. But the government, and whatever the [political] colour of the government, is fiercely against anti-Semitism."
President Sarkozy's grandfather was Jewish, and that did not stop him from getting elected, Dr Prasquier said.
And he pointed out that Dominique Strauss-Kahn, who would probably have been the opposition Socialist candidate in the election due in just over a month, if he had not been accused of sexual assault in New York, is Jewish.