Russia court dismisses appeal on Hindu book ban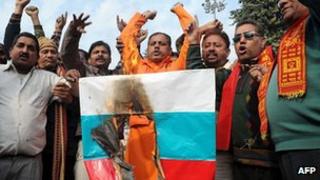 A Russian court has dismissed an appeal to ban an edition of the Hindu holy book Bhagvad Gita, in a case that triggered protests in India.
In December, a court in the Siberian city of Tomsk had rejected a plea by prosecutors to rule the edition "extremist". That would put it in the same category as Hitler's Mein Kampf.
Prosecutors had filed an appeal in the higher court against the decision.
The edition - Bhagvad Gita As It Is - is used by the Hare Krishna movement.
"The court in the Siberian city of Tomsk has dismissed the plea," Sadhu Priya Das of the International Society for Krishna Consciousness (ISKCON) told the Press Trust of India news agency.
The higher court in Tomsk "kept the verdict of the lower court intact," Mr Das said.
The Russian foreign ministry had said it was the commentary on the text, not the text itself, that was under scrutiny.
The controversial commentary on the text was written by A C Bhaktivedanta Swami Prabhupada, the founder of the movement.
Hare Krishna followers in Russia saw the case as part of efforts by the Russian Orthodox Church to restrict their activities.
The Bhagvad Gita, one of the most popular texts for Hindus, takes the form of a conversation between the god Krishna and prince Arjuna.
Last year Indian MPs demanded the government protect Hindu rights in Russia, shouting: "We will not tolerate an insult to Lord Krishna."