Dutch Roman Catholic church 'castrated' boys in 1950s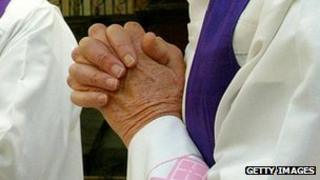 Up to 11 boys were castrated while in the care of the Dutch Roman Catholic church in the 1950s to rid them of homosexuality, a newspaper investigation has said.
A young man was castrated in 1956 after telling police he was being abused by priests, the newspaper reported.
The justice minister is investigating the role of the government at the time.
Last year, an inquiry found thousands of children had been sexually abused in Dutch Catholic institutions since 1945.
Dutch MPs called for an inquiry after the report was published in the NRC Handelsblad newspaper at the weekend.
'Serious and shocking'
Henk Hethuis, a pupil at a Catholic boarding school, was 18 when he told police in 1956 he was being abused by a Dutch monk. He was castrated on the instructions of Catholic priests, NRC Handelsblad said, and told this would "cure" him of his homosexuality.
The same happened to at least 10 of his schoolmates, the newspaper said.
Hethuis died in a car crash in 1958.
Dutch Justice Minister Ivo Opstelten called the allegations "very serious and shocking" and said he would investigate the role of the Dutch government at the time.
The Dutch Catholic church has said it is willing to co-operate with an investigation to find out whether the media reports are true, Reuters reports.
A commission of inquiry last year said Catholic officials had failed to tackle the widespread abuse at schools, seminaries and orphanages.
The commission - headed by former cabinet minister Wim Deetman - found tens of thousands of children had suffered abuse ranging from inappropriate touching to rape.
It condemned what it called the church's cover-up and culture of silence.
NRC Handelsblad said the commission received a complaint about the alleged castration cases in 2010.
Dutch MPs are to ask formally for a parliamentary hearing with the head of the commission, former cabinet minister Wim Deetman, to ask him why he did not include the information in his report.