Spanish ex-regional head jailed in corruption case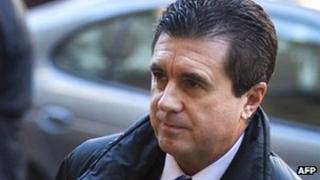 The former regional head of government of Spain's Balearic Islands has been jailed for corruption.
Jaume Matas, who is also a former Spanish environment minister, was given a six-year sentence.
He was found guilty of using public money to pay a journalist who wrote articles praising him, the court said.
The verdict is part of a wider scandal that has also seen the king's son-in-law, Inaki Urdangarin, testify in court.
Mr Matas, who belongs to the centre-right Popular Party of Prime Minister Mariano Rajoy, was convicted of fraud, falsifying official documents, embezzlement and influence peddling.
He was regional president of the Balearic Islands for two stints - between 1996 and 1999 and then from 2003 to 2007.
Between 2000 and 2003, he was also Spanish environment minister in the conservative government of then Prime Minister Jose Maria Aznar.
Mr Matas has been released pending an appeal. The journalist, Antonio Alemany, was sentenced to three years in prison.
The case is one 26 to have emerged from the investigation into a corruption scandal known in Spain as the Palma Arena affair.
In another of the cases, Inaki Urdangarin, the duke of Palma and husband of Princess Cristina of Spain, was questioned in court in February over allegations he misused public funds given to a foundation he ran.
Mr Urdangarin denies any wrongdoing