Swiss coach crash: Three injured girls 'out of danger'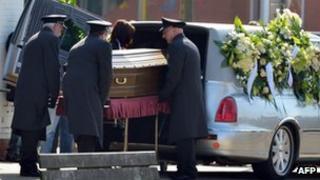 Three girls who were in an induced coma after a coach crash in Switzerland in which 28 people died have regained consciousness, doctors in Lausanne say.
Their health has "markedly improved" and they have been able to talk to their parents.
Twenty-two children and six adults from two schools in Belgium died when their coach crashed last week in a road tunnel near the Swiss town of Sierre.
Funerals for some of the victims will take place in Belgium on Wednesday.
Members of the Belgian and Dutch royal families are expected to attend.
A major ceremony will take place in the village of Lommel, close to the Dutch border, for 14 of the children from the Stekske primary school and a teacher. Six of the children had Dutch nationality.
A funeral was held for Veerle Vanheukelom, a 37-year-old mother of two children, in Lommel on Tuesday, the first of the Sierre crash victims to be buried. She was an administrative worker at the school.
A church service will be held on Thursday for some of the victims from the second school involved, in the town of Heverlee.
'Out of danger'
After the crash, three of the most seriously injured were taken for treatment in Lausanne while a fourth was transferred to a hospital in the capital, Berne, before being repatriated to Belgium for treatment.
The Lausanne University Hospital - where the three girls are being treated - says they are "out of immediate danger".
Two are suffering from serious head injuries and the hospital says "their neurological condition is developing favourably".
It says the third girl, who suffered spinal injuries in the crash, has been able to move her fingers and toes.