Demjanjuk family asks to bury Nazi war criminal in US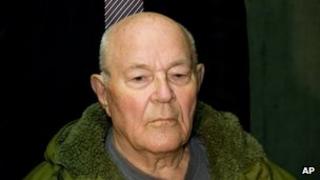 Relatives of World War II Nazi camp guard John Demjanjuk have asked for his body to be sent back to the US for burial.
Demjanjuk died in a German nursing home on Saturday at the age of 91 while awaiting appeal.
His lawyer has asked German authorities to send the body to Ohio where Demjanjuk lived before he was stripped of his American citizenship.
Some Jewish groups fear a funeral there could could attract Nazi sympathisers.
Efraim Zuroff from Jewish human rights organisation The Simon Wiesenthal Center in Jerusalem, told the AP news agency it would "turn into a demonstration of solidarity and support for Demjanjuk, who is the last person on earth who deserves any sympathy".
But others feel that Demjanjuk was not a significant enough figure in the Holocaust for his grave to attract much attention.
Demjanjuk was born in Ukraine and arrived in the US in 1952 saying he had spent much of World War II in a prisoner of war camp.
He settled in Cleveland working in the car industry but 25 years later was accused of war crimes.
After lengthy legal battles he was found guilty last year of being a guard at Sobibor camp in Nazi-occupied Poland.
He was sentenced to five years in prison but was released to a nursing home pending an appeal.
He always denied the charges insisting they had arrested the wrong man.
Demjanjuk was also convicted on similar charges by a court in Israel in 1986, but that verdict was overturned when doubts emerged about his identity.