French shootings: Race to find cold, brutal killer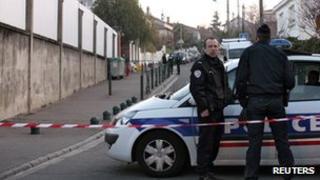 Seven dead, in eight days, and in three separate attacks.
Toulouse has a serial killer revelling in his notoriety - and showing every indication he will kill again.
It is the cold brutality of these attacks that alarms investigators.
In Monday's shooting at the Jewish school, the gunman seized the eight-year-old daughter of the head teacher by the hair as she tried to escape.
Initially the weapon jammed. He pulled out another and shot her at point blank range.
The entire south-west region of France has been placed on scarlet, the highest possible terror alert, with an unprecedented number of policemen and investigators working the case.
There are roadblocks and heightened security outside every school and religious building.
The police have robust powers to stop and search, to close transport networks, even to turn off the water. Municipal policemen have been armed.
On Monday, all flights from Paris were full, with policemen, investigators and military personnel heading to the region.
Far-right appeal
President Nicolas Sarkozy on Tuesday observed a minute's silence for the victims at a school in Paris, and has pledged no effort will be spared by his government to catch the killer.
Both he and Socialist opponent Francois Hollande appeared together at a synagogue in Paris last night in solidarity with the Jewish community.
Nonetheless, the president has been criticised in some quarters for running a negative election campaign.
In recent weeks, his message has veered to the right, with a new emphasis on immigration, identity and immigration.
He is trying to win back those voters who have strayed to the resurgent Front National, the votes that could determine whether he gets a second term.
The election campaign has now been postponed until Wednesday; some in the Jewish community said they would like to see it resume in a much more positive light.
Friday focus
Investigators have confirmed they are looking for a single gunman who travels to his target on a powerful scooter.
He carries two weapons - an automatic rifle and a pistol. And he may have tried to film his attack - closed-circuit footage shows something akin to a camera around his neck worn in a harness on his chest.
Forensic teams are now monitoring the internet for any film or photos that are posted, while trying to build - quickly - a profile of their killer.
They know him to be local, he is muscular, thick-set, ruthlessly efficient, perhaps signifying some military training.
One line of the inquiry pursued by investigators focused on three former members of the parachute regiment in neighbouring Montauban - scene of Thursday's attack.
A widely circulated picture published in 2008 shows the three men behind a swastika, arms raised in a Nazi salute.
However, police sources have told French media that two of the men were questioned on Monday night and cleared of involvement. The third was ruled out of the inquiry after last week's attack.
There is no clear motive - in this investigation - but it is an inescapable fact that all the victims have been Jewish, black or of north African descent.
The police are working against the clock, hoping they have put enough resources in the region to serve as the deterrent.
But the serial killer may develop an urge to take greater and greater risks, and the fear is that he is already planning his next attack.
There is a pattern to the style and frequency of the shootings - so far they have come every four days. And that puts the focus and concern on Friday - the Muslim day of prayer.