French presidential election: 10 candidates approved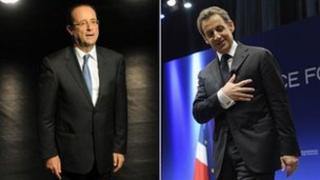 A total of 10 politicians have been confirmed as candidates in the French presidential election on 22 April, one of the most closely fought in decades.
The conservative sitting President, Nicolas Sarkozy, is tipped to go into a run-off with the Socialist, Francois Hollande, on 6 May.
While Mr Hollande remains favourite to win in opinion polls, the gap between the two men has narrowed.
National Front leader Marine Le Pen is placed third by the same polls.
She narrowly survived elimination from the race when, days before the deadline, she gathered the minimum 500 endorsements from elected officials required for a candidate to stand.
Other strong challengers in the first round are a veteran centrist, Francois Bayrou, and the radical left's Jean-Luc Melenchon.
One notable name missing from the ballot-paper is that of former Prime Minister Dominique de Villepin, who failed to gather enough endorsements.
The other five candidates registered by France's constitutional court are Eva Joly, Nicolas Dupont-Aignan, Nathalie Arthaud, Philippe Poutou and Jacques Cheminade.