Spain's dilemmas over 'Eurovegas' mega casino plans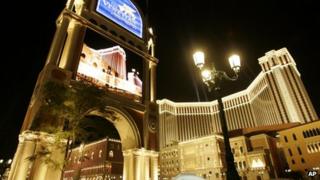 Spain's two great rival cities, Barcelona and Madrid, are vying to attract a mega casino project planned by US multi-billionaire mogul Sheldon Adelson. Dubbed "Eurovegas", the vast 16bn euro ($21bn; £13bn) complex of hotels and casinos will, say Spanish officials, generate up to 200,000 jobs.
For a country with a struggling economy and high jobless rate, the temptations are clear. But Mr Adelson's investment comes with conditions, and some argue he should have to play by the same rules as others in Spain.
The contest to win over the 14th richest man in the world has become a casino version of the El Clasico derby that Spaniards are more used to witnessing on the football pitch.
Barcelona, the Catalan capital, has beaches and a port where cruise ships dock on a daily basis. Madrid, the national capital, has the bigger, and better-connected, airport.
Mr Adelson owns casinos in Las Vegas and in Macau, China. Three years ago he opened Marina Bay Sands, a huge complex of hotels, shops and casinos in Singapore.
'Low-tax haven'
Sheldon Adelson's company, Las Vegas Sands, says the project will generate, directly or indirectly, 260,000 jobs.
The Spanish capital's tourism boss, Ignacio Fernandez gives a slightly more conservative, but still impressive, figure of 200,000 jobs.
Either way, with Spain's unemployment standing at 23%, Mr Fernandez openly admits that the casino project's job-creation potential is its "biggest attraction" and makes it something "politicians have to get for their country".
The main sticking point for negotiations between Spanish politicians and Mr Adelson is a list of conditions which, according to Madrid's tourism authority, the American businessman has given in order to agree to invest in Spain.
It says Mr Adelson is unhappy about the level of social security he would have to pay his workers; he would also like immigration laws to be relaxed so it would be easier for him to bring some workers in from abroad.
The tourism authority also says he would like to defy Spain's nationwide smoking ban in public places by allowing people to light-up in certain parts of the casino complex.
Mr Adelson's company insists it has not made its investment dependent on a list of conditions, describing its talks with the Spanish government as "positive". "While we are not going to discuss specific topics we have discussed, those conversations should not be characterised as our company presenting a list of demands," the company said in a statement.
But the reports have led to criticism, particularly from politicians on the left, that the resort would become a low-tax haven.
Gregorio Gordo, of Spain's United Left party, disputes claims that the project would be a true source of real employment, pointing out that Mr Adelson would bring some workers in from abroad.
He also argues that local hotels would lose business to the 12 hotels which are planned as part of the complex.
Political risk
Catalan President Artur Mas admits his region has always been behind Madrid in the race, but he believes in recent weeks Barcelona has been "catching up".
As one of his officials points out, Barcelona has the sea and is a "much cooler" city.
But politicians in the Spanish capital have been working on Mr Adelson for much longer.
They also have the added bonus of political harmony: the city, regional and national governments are all controlled by Spain's ruling Popular Party (PP).
The Spanish national government will ultimately decide whether to grant Las Vegas Sands their requested concessions. However it has pledged to remain neutral.
If Spain's government was to allow an American billionaire to build an enormous casino project, which was subject to different rules that the rest of Spain, a political risk would come attached.
However, Eurovegas would potentially pull in a new market of thousands of tourists, generating significant revenue.
Sheldon Adelson's visits to Spain, most recently to Barcelona, suggest he is serious about the project.
And he does not seem to have been put off by the eurozone crisis. He told Forbes' magazine that the project would take four to five years to build, by which time he believes "everything will be solved".
From what officials in Madrid and Barcelona are saying, the economic potential of the project means it is a gamble either city is willing to take. First though, they need the consent of Spain's national government.