The French elections and Europe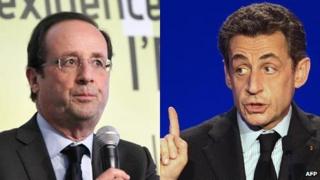 For today the French election campaign has fallen silent. After the shootings at the Jewish school in Toulouse, the Socialist candidate suspended his campaign for the day.
Tomorrow all schools in France will observe a minute's silence. French President Nicholas Sarkozy said "the barbary, the savagery, the cruelty cannot win. Hate cannot win". Both candidates will visit the school.
At this stage it is impossible to know what impact these shootings may have on the Presidential campaign.
One of the great virtues of election time is that it forces politicians to address what they think is on the minds of voters.
What appears in speeches on the hustings can tell you a lot about a country.
Surprise issue
So with the French elections. Europe has proved a surprise issue.
President Sarkozy has railed against Brussels "technocrats and tribunals". Yet this is the same leader who only recently touted his partnership with a German chancellor who is pushing not just for "more Europe" but is increasingly making mention of a "political union".
Mr Sarkozy the candidate believes that national governments must be in charge of running Europe's economy and immigration policies.
He fears that the Schengen agreement - the free movement of people within certain EU countries - is working against the French people. Migration, in his view, is a danger.
"We cannot accept," he told a rally last weekend, "being subjected to the shortcomings of Europe's external borders. Reform is the only way to avoid an implosion of Europe".
So, the French president has threatened to suspend participation in the Schengen agreement unless it is reformed. It so happens negotiations are already under way.
This, of course, enrages some.
"These are anti-European and nationalist statements which are not acceptable in the Europe that we live in," said Hannes Swoboda of the Socialist and Democrats grouping in the European Parliament.
It is curious that a parliamentarian wants to shut down debate because the French president's intervention prompts an interesting question. Do French and European voters want to keep open borders at a time when 24 million people are out of work or would they prefer some restrictions?
I do not know the answer but it has to be an entirely legitimate election-time debate.
The assumption is that President Sarkozy is trying to win back votes from Marine Le Pen and the far right. That may well be true but economic insecurity is at the centre of her appeal.
'Savage competition'
The French president also raised another sensitive question - the value of free trade.
"I want a Europe that protects its citizens," he said. "I no longer want this savage competition." He hinted at a "Buy European" Act and saying "no to a Europe that opens its markets when others don't".
Some denounced this as a slide towards protectionism. Yet, increasingly, it is being debated whom globalisation has benefited. Emerging countries - almost certainly. Elites - yes. But ordinary workers in Europe and the United States? In the past decade they have seen their incomes stagnate.
The campaign manager for his Socialist opponent Francois Hollande said the president - with his views about Europe - sounded like a British Conservative prime minister.
But Francois Hollande has also wanted to demonstrate that he cannot be taken for granted over Europe.
Eurozone pact
He has promised to re-negotiate the fiscal pact to tighten budgetary discipline in the eurozone. It is a centre-piece of Angela Merkel's plans to fight the eurozone crisis.
Its aim is to control government spending in the future. Francois Hollande has a fundamental disagreement with the pact. There is, in his view, too much emphasis on austerity and not enough on jobs and growth.
There is a deeper issue here. Under the pact, future debt limits will be enshrined in law and Brussels will act as referee on national budgets.
As Francois Hollande demonstrates, budgets and tax and spending are at the very heart of national politics.
What the French election is demonstrating is that Europe and its powers will be an increasing issue in the future. Why? Because issues like budgets and immigration are what matter to voters.