EU condemns Belarus for metro bombing executions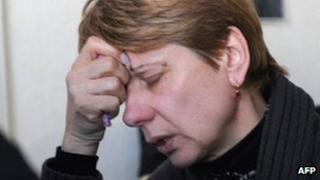 EU leaders have condemned Belarus for executing two men convicted of carrying out a bomb attack on the underground railway in the capital, Minsk.
The sentences were carried out on Friday, state TV reported.
In November last year, the Belarusian supreme court found Dmitry Konovalov, 25, guilty of carrying out the explosion and Vladislav Kovalyov, also 25, of assisting him.
The attack on 11 April 2011 killed 15 people and wounded hundreds of others.
President Alexander Lukashenko decided not to reprieve the two men last Wednesday, despite calls to do so from human rights groups and the Council of Europe.
Kovalyov's mother received a letter from the authorities notifying her of her son's execution by shooting, the man's sister said.
Rights groups had questioned the validity of the pair's convictions, arguing that no motive had been provided during their trial and that conflicting accounts had cast doubt on their involvement in the attacks.
Although Konovalov had admitted guilt at the start of the trial, Kovalyov withdrew his testimony, explaining that he had given evidence to investigators under duress.
Lyubov Kovalyova blamed herself for her son's death, suggesting that he had been executed "because I hired a lawyer, because I started to fight, because my son told the truth and the trial did not go as it was supposed to".
International condemnations
In a statement, EU foreign affairs chief Catherine Ashton condemned the execution of both men, saying they had not been accorded due legal process.
British Europe Minister David Lidingtonsaid in a statementthat independent reports had "raised serious and credible concerns over the standard of evidence and fairness" of the trial that the two men had received.
The president of the Council of Europe's parliamentary assembly, Jean-Claude Mignon, of France, said the executions had "no place in a civilised society".
The German government said they would put further strain on ties between the EU and Belarus.
"Lukashenko thus drifts even further away from our European values," Chancellor Angela Merkel's spokesman, Ronald Pofalla, said.
Belarus is the only nation in Europe still using capital punishment. Official figures are not released, but reports suggest nearly 300 people have been executed in Belarus since the collapse of the Soviet Union.