Greece's Pasok party elects Evangelos Venizelos leader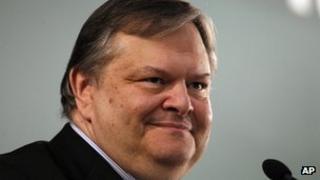 Greece's Finance Minister Evangelos Venizelos has claimed victory in the Pasok party's leadership election.
The 55-year-old ran unopposed in the contest to take over the centre-left party from George Papandreou, who resigned as prime minister in November.
Mr Venizelos is expected to stand down from government to prepare for a general election due by early May.
Analysts say voters are likely to punish Pasok for its role in passing tough austerity measures.
Pasok supported massive budget cuts that were demanded by the EU and IMF in return for a 130bn euro bailout package.
The BBC's Mark Lowen in Athens says Mr Venizelos inherits a divided and exhausted party facing historic lows in polls.
Mr Venizelos said Pasok members must now move forward together.
"The people sent a strong message that Pasok is here, that Pasok hasn't lost its soul, that our target to win the [general] election is feasible," Venizelos told party members after the vote.
Pasok members and supporters were urged to cast their vote in Sunday's nationwide ballot, even though the result was not in doubt.
After the election, the party is likely to be forced into coalition with the country's other main party, the conservative New Democracy, although leftist parties opposing the bailout measures are gaining popularity fast, our correspondent says.
French-educated and a gifted orator, Mr Venizelos challenged Mr Papandreou, son of Pasok founder Andreas Papandreou, for the leadership in 2007.
As the new Pasok leader, he has vowed to stick to the measures set out in the austerity programme and support structural reforms to slim down Greece's bloated public sector.