Vatican launches criminal probe into unauthorised leaks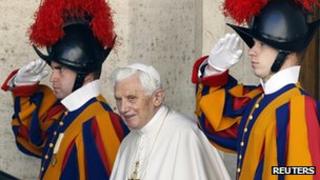 The Vatican has opened a rare criminal investigation into unauthorised leaks to the Italian media of confidential documents, its official paper reports.
The leaks describe alleged corruption, mismanagement, and internal conflicts among top officials.
The Vatican newspaper L'Osservatore Romano made the announcement together with an official admission that there have been "grave acts of disloyalty" .
The "Vatileaks" scandal, as it is known, has filled Italian media.
It has dominated the columns of Italian newspapers and magazines and been the subject of TV programmes, the BBC's David Willey in Rome reports.
The leak of a string of highly sensitive internal documents from inside the Vatican's Secretariat of State, including personal letters to Pope Benedict XVI, are an evident embarrassment to the pope, our correspondent says.
Pope Benedict is "serene, but saddened" at the revelations according to a top church official quoted in L'Osservatore Romano.
The official paper blamed unidentified members of the Roman Curia, the men who run the international headquarters of the Roman Catholic Church, for the leaks.
Apart from a criminal investigation by an internal Vatican tribunal, the pope has ordered a separate administrative enquiry to try to determine the source of the leaks.
The investigation would cover every branch of the Vatican administration, the AFP news agency cites Giovanni Maria Vian, director of L'Osservatore Romano, as saying.
The leaked documents include a letter to Pope Benedict by the Vatican's current ambassador to Washington alleging cronyism, nepotism and corruption among the administrators of Vatican City.
Others concern poison pen memos criticising Carinal Tarcisio Bertone, the pope's number two, and the reporting of suspicious payments by the Vatican Bank.